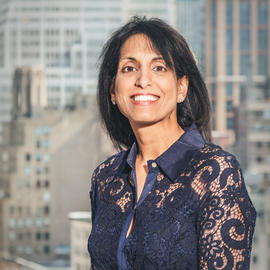 "As a physician and a patient, I wanted to be part of an organization dedicated to supporting research to find better treatments and a cure. Most importantly, I wanted to find a foundation that was fully dedicated to the PD community. I found all of that and more in MJFF."
Dr. Soania Mathur is a family physician living outside of Toronto, Ontario, Canada who resigned her clinical practice 12 years following her diagnosis of young-onset Parkinson's disease at age 28. Now she is a dedicated speaker, writer, educator, and Parkinson's advocate. Her platform, UnshakeableMD (www.unshakeablemd.com) serves as a resource for patient education as well as an outlet for her personal experiences with this disease.
Dr. Mathur is an active speaker in Canada and internationally at patient-directed conferences and has authored a number of published papers and online pieces that focus on patient education, empowerment and the vital importance of involving patients in all areas of clinical research.
She serves as Co-Chair for the Patient Council of The Michael J. Fox foundation for Parkinson's Research (MJFF). She also devotes time as part of the Board of Directors at The Davis Phinney Foundation, is part of the Editorial Board for the Journal of Parkinson's Disease and serves on The Brian Grant Foundation Advisory Board. Dr. Mathur has valued her involvement with the World Parkinson's Congress (WPC) as both a speaker and committee member and was awarded the World Parkinson Coalition Award for Distinguished Contribution to the Parkinson's Community at the WPC in 2019. She was also privileged to be recognized in 2020 by receiving the Alan Bonander Humanitarian Award for her work in the PD community. Close to home, she is a member of the Board of Directors for the Lakeridge Health Foundation and also sits on the Patient Advisory Board for the Toronto Western Hospital Movement Disorder Clinic where she chairs the research committee.
Recently she co-founded PD Avengers, a self-funded, global alliance of Parkinson's advocates dedicated to unifying the global PD community to add urgency to the areas of wellness, research, and advocacy, to end Parkinson's. Learn more at www.pdavengers.com.
To help facilitate dialogue between children and their loved ones, she has authored two books: "My Grandpa's Shaky Hands" and "Shaky Hands – A Kid's Guide to Parkinson's Disease All proceeds from the sales of these books are donated to support Parkinson's research and other efforts that serve the PD community.