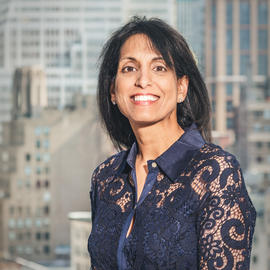 "As a physician and a patient, I wanted to be part of an organization dedicated to supporting research to find better treatments and a cure. Most importantly, I wanted to find a foundation that was fully dedicated to the PD community. I found all of that and more in MJFF."
Soania Mathur is a retired family physician living outside of Toronto, Ontario, and currently serves as a co-chair of the MJFF Patient Council. She was diagnosed with young-onset Parkinson's disease at 27. Twelve years later, she resigned her practice. Today she is a dedicated speaker, writer, educator and Parkinson's advocate.
Dr. Mathur is an active speaker in Canada and the United States at patient-directed conferences and often serves as a resource for education projects. She discusses the challenges of adjusting physically and emotionally to diagnosis and strategies available to patients to take charge of their lives and to live well with Parkinson's.
She is a member of The Brian Grant Foundation Advisory Board, is advisor to Parkinson's Movement North America and is on the medical advisory board for Parkinson's Canada, as well as Rock Steady Boxing in Toronto. She is also on the Program Committee for the 2016 World Parkinson Congress and the editorial board of the Journal of Parkinson's Disease. She was the sole contributor for the About.com Parkinson's website and is a regular contributor to Huffington Post.
Soania founded Designing A Cure Inc. to raise funds directed towards research and awareness of PD and to educate and inspire those living with this disease to live well with Parkinson's. Dr. Mathur has a special interest in helping educate the youngest affected by the stress of this chronic disease. To help facilitate dialogue between children and their loved ones, she has authored two books: "My Grandpa's Shaky Hands" and "Shaky Hands – A Kid's Guide To Parkinson's Disease." All proceeds from the sales of these books are donated to support Parkinson's research and other efforts that serve the PD community.
Soania lives with her three daughters and her husband, who is also a physician.
---
The MJFF Patient Council was established in March 2009 as a formal channel for the Foundation to solicit input from PD patients and the broader Parkinson's community. The Council advises the Foundation on programmatic fronts including (but not limited to) strategies to best convey patient priorities to the research community and its funders; content and emphasis for patient education and outreach relevant to MJFF's mission to find a cure; patient roles in developing novel ways to conduct research; and mechanisms for impact assessment.