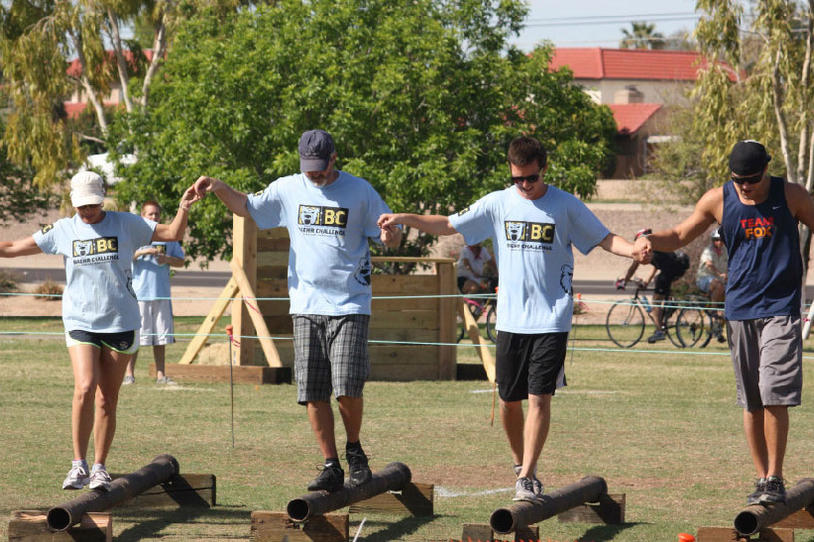 Team Fox members Brian and Matt Baehr know all about the benefits of exercise for our overall well being. Matt studied kinesiology education at Arizona State University and started Spartan Boot Camps to promote interval training as a method of getting in shape. Meanwhile, Brian has been advocating for the importance of fitness in our daily lives. Together, this father-son team started the annual Baehr Challenge Obstacle Course and Race Event in Tempe, Arizona to engage their community with a morning of fun and fitness for all levels. So what?

In 2007, Brian was diagnosed with young onset Parkinson's disease. Brian firmly believes that exercise helps relieve his PD symptoms. The Baehr Challenge is the perfect marriage of fitness and Parkinson's disease awareness. Both are causes that the Baehrs believe in and support on a daily basis. Since their Challenge started in 2010, they have raised more than $22,000 for Team Fox.

This year's event will be held on Sunday, April 22, 2012. If you'll be in the Phoenix area and want to participate, visit www.baehrchallenge.com or email info@baehrchallenge.com. More event details, including the who, what, where and when, after the jump.
The 3rd Annual Baehr Challenge

WHO: Co-ed teams of four (one member must be of the opposite sex), fun loving, fitness enthusiasts. The event is planned to accommodate less competitive beginners to advanced fitness levels and a variety of participant age groups.

WHAT: Staggered-start, two mile obstacle course relay race that combines teamwork and tenacity to test physical fitness in a morning you will never forget.  Climb hay bales, traverse fields of tires, army crawl under obstacles and run with your friends as we sprint towards a cure.  The obstacle course and race event is conducted by Matt Baehr, Spartan Boot Camps.  Teams may choose to do the obstacle course only and not do the run. Goofy costumes are welcome and prizes will be awarded for the most ridiculous as well as for the various competitive categories.

WHERE: Tempe Sports Complex. 8403 S. Hardy Drive (at Carver Road), Tempe, AZ 85284

WHEN: Saturday, April 21, 2012. Registration at 8:00 AM. Event from 9:00 AM to Noon.