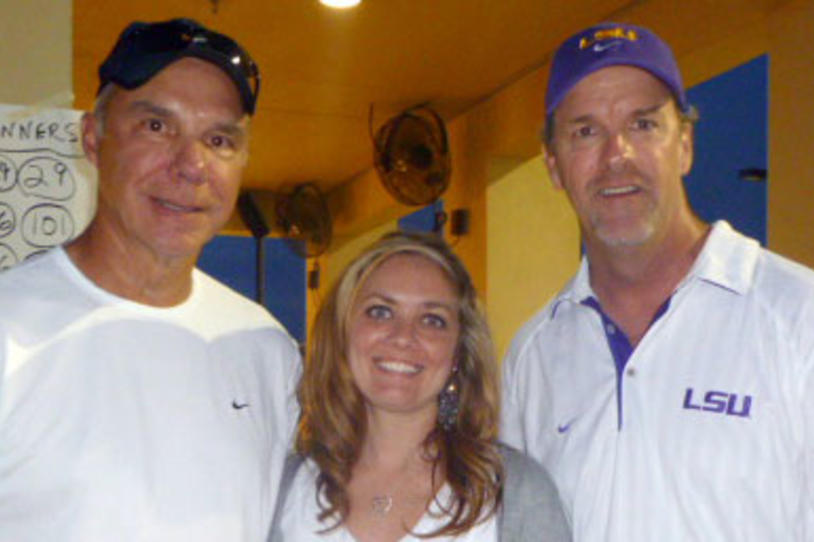 Stone Creek Club & Spa is an upscale athletic resort in Covington, LA, that offers a wide array of fitness, social and lifestyle programs and services. Each year, Stone Creek celebrates "Get Active Week" in April, promoting fitness and endurance challenges to get the whole family moving and living healthier. The week ends with a family-friendly 5K and 1-mile walk/run designed to raise money for a particular charity. This year, the 3rd Annual Twilight Run & Poolside Party benefitted The Michael J. Fox Foundation.

One of Stone Creek's owners, Quentin Dastugue, was diagnosed with Parkinson's disease earlier this year, so it's no surprise that the club joined Team Fox and chose to direct their raised funds to MJFF. To help promote the event and maximize awareness in the community, Stone Creek teamed up with Steve Kragthorpe, LSU's quarterback coach who received his own Parkinson's diagnosis last year.

This year's Twilight Run raised more than $13,000 for Team Fox—all of which will be matched by The Brin Wojcicki Challenge. We caught up with Jennifer Holoway, Stone Creek's Event & Program Coordinator, to get some secrets behind this success.

Team Fox: Why did you choose Team Fox as the beneficiary of the 2012 Twilight Run? How did this event live up to your expectations?
Jennifer Holoway: Stone Creek Club & Spa chose Team Fox as the beneficiary of our 3rd Annual Twilight Run because one of our owners was recently diagnosed with Parkinson's disease. It is for this reason that we felt it essential to not only show our continued support through words, but to raise awareness about Parkinson's disease, and ultimately help fund research to find a cure.

This year's event far exceeded our expectations! We were blessed with wonderful weather (the original forecast was not optimistic) and raised more than 3 times the amount of money than we had in years past.

TF: What was the easiest part of putting this event together? Did you encounter any hurdles along the way?
JH: Since this is Stone Creek Club & Spa's 3rd year hosting the Twilight Run, we did not encounter any major obstacles. One of the most beneficial tools to ensure the success of this event was partnering with the Michael J. Fox Foundation & the Media Training Kit! Additionally, our core team of staff & volunteers were crucial to the cause. Everything was seamless, especially since most of our team was familiar with the essential tasks and duties to put the event together.

TF: How did the fundraising work for this event? Did you implement a particular fundraising strategy?
JH: Our overall fundraising strategy was to partner with Quentin Dastugue (one of Stone Creek's primary owners) and LSU Quarterback Coach Steve Kragthorpe, and to aim high! Both gentlemen are tightly knit within the local community and were recently diagnosed with Parkinson's. It is through Quentin & Steve's correlation with the cause and their contacts that we were able to raise most of our funds.

TF: If there is anything you would do differently, what would it be and why?
JH: I would have loved to have more people attend the event. Although we had 201 total racers, I would have liked to see more companies & organizations walking as a team. Next year, I would like to contact businesses not only for sponsorship funds, but to also encourage them to participate in the run as a team. I would also like to add a donation box on-site to encourage last minute in-kind donations to help raise more funds.