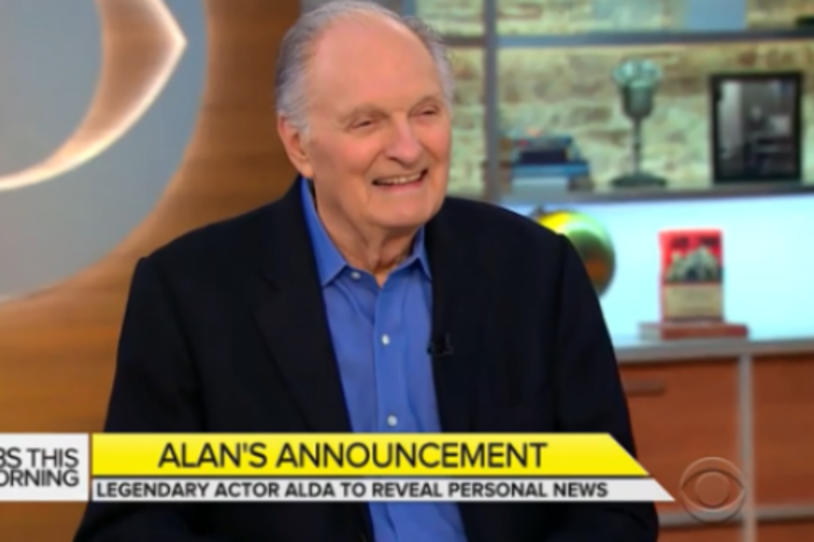 Today, during an appearance on "CBS This Morning," Emmy- and Golden Globe-winning actor Alan Alda revealed he has been living with Parkinson's disease for more than three years. Alda decided to disclose his disease publicly now because he wanted to ensure he told his own story before it was misreported:
"I was diagnosed three and a half years ago. And I've had a full life since then. I've acted, I've given talks, I help at the Alda Center for Communicating Science at Stony Brook. I started this new podcast. And I noticed that -- I had been on television a lot in the last couple of weeks talking about the new podcast -- and I could see my thumb twitch in some shots and I thought, it's probably only a matter of time before somebody does a story about this from a sad point of view, but that's not where I am."
Alda also discussed his initial reaction to a Parkinson's diagnosis and how he views his disease:
"I was mainly helping my family not be worried. It's common for us all to go to the worst thought, but what's interesting is this is a disease that is different for almost everybody who has it. There are some common symptoms, but mostly everybody is different. And each day is different from the next....But the main thing is there's stuff you can do. It's like a puzzle to be solved -- what do I have to adapt to it, to carry on a normal life? And I enjoy solving puzzles."
Watch Alda's entire interview on CBS This Morning.
For more information on navigating a Parkinson's diagnosis, download Parkinson's 360 -- a toolkit developed by The Michael J. Fox Foundation for anyone whose life has been touched by Parkinson's disease.