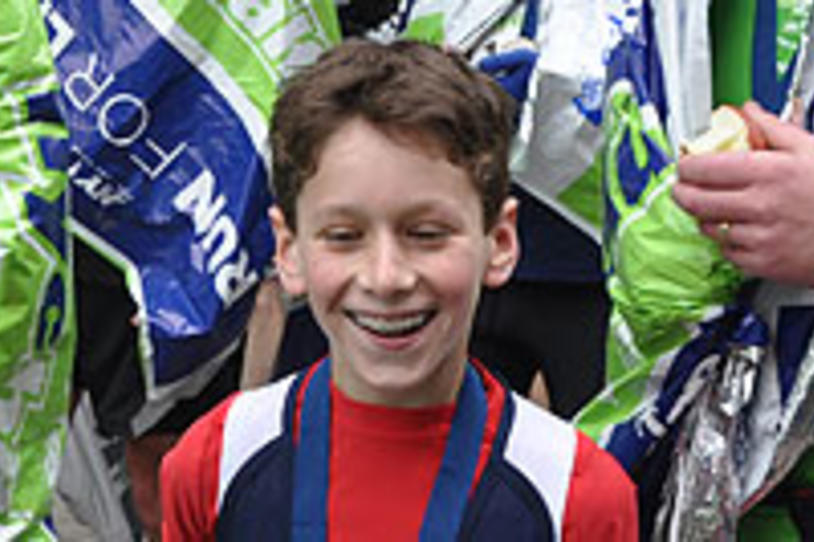 The Team Fox community has welcomed a new hero to its ranks. His name is Adam Sirota. Adam, a 13-year-old, seventh grader from Roslyn New York ran for Team Fox in last month's NYC Half-Marathon, raising $1,500 for The Michael J. Fox Foundation in the process. And as though that weren't already enough, the middle-school cross country runner was (for the second straight year!) the youngest competitor out of more than 15,000 runners in the race. I asked Adam about his fundraising, his running, and his NYC-Half experience.  As a runner myself, I couldn't wait to find out what drives Adam to do such incredible things at such a young age.
Sam Fox: What got you into running, and what is it that you like about it?
Adam Sirota: I got into running when I was about 8 when I ran my first 5-mile race. I like running because it takes my mind off everything. For example, if I have homework to do and I'm just stressed out, I'll go out with my mom and run a few miles.
SF: I've been a runner for a long time, too. I ran races all the time when I was your age but never anything more than a 5k. What is it about the longer distances that you prefer?
AS: Well, I like to run longer distances because I like the idea that I push myself to work harder and I push myself to go those extra miles.
SF: A half marathon definitely qualifies as "extra miles." So, how did you prepare for the NYC Half?
AS: I prepared for the NYC Half by running 3-4 days a week for 3 months. One of these days would usually be on the weekend and would be a long run ranging from 6 to 10 miles. The other days would be 2 to 6 miles.

SF: This was the second time you've run in the NYC-Half. You finished almost 15 minutes faster than your time from last year.  What went better this year? And how did it feel to be the youngest person in the race for the second year in a row?
AS: I think I ran better this year because I was older, I had already experienced a half-marathon, and I was allowed to do cross-country [this year] which built my speed. I definitely liked being the youngest one in the race because for that one day, I had so many people say to me, "that is amazing that you ran this race," and it made me feel so special to be able to run how I do.
SF: Your time of 1:42.04 is incredibly fast for anyone, let alone someone your age. You finished ahead of more than 80% of the 15,000 runners, and you're only 13. So I have to ask, what do you have planned for next year?

AS: Next year, I hope to do better than this year. 1:42 is definitely a hard time to beat but I think that if I try my hardest, I can beat it.

SF: Can you tell me more about your connection to Team Fox and Parknison's disease?

AS: Well, one of my best friends, [his] mom has Parkinson's disease. Her name is Sharon Greif. I know that she is very connected to Team Fox and I dedicated this race to her.

SF: I did a fundraising run to honor my Mother, who has PD, last year when I was 23.  You're only 13 and have already made incredible efforts to help and honor others.  When I was your age, I probably wasn't even capable of such a selfless act.  I commend you on your maturity and compassion.  Who taught you to be so empathetic?

AS: Well, for this I have to thank my parents. My parents teach me the right manners and to be kind to everyone. I also think that my brother and sister helped me, too. Although they can sometimes be a little annoying, I can still thank them for teaching me the right way.

SF: You've raised almost $1,500 for Team Fox!  How did you do it? Do you have any fundraising suggestions for other Team Fox members?

AS: I raised $1,500 by just asking everyone I know for their help in raising money. I must say, in my case it was a lot easier than I thought. Also, I agreed to donating a little of my own money too.  I would suggest that when trying to raise money, just ask everyone you know, you'd be surprised how many people are willing to donate for a good cause.

SF: I heard you recently had a Bar-Mitzvah.  So when did you feel more grown up, at your party, or when you crossed the NYC Half finish line last month in an incredible 1:42.04?

AS: I would say that my Bar-Mitzvah made me feel like a real man. In the Jewish religion, [becoming] a Bar-Mitzvah means that you are an adult. Yes, crossing the finish line [in that] time made me feel older, but I already crossed the finish line last year and felt the same way.
The entire Michael J. Fox Foundation community would like to thank Adam for his efforts.  My guess is that this isn't the last time we'll all hear about this (young) man's accomplishments.