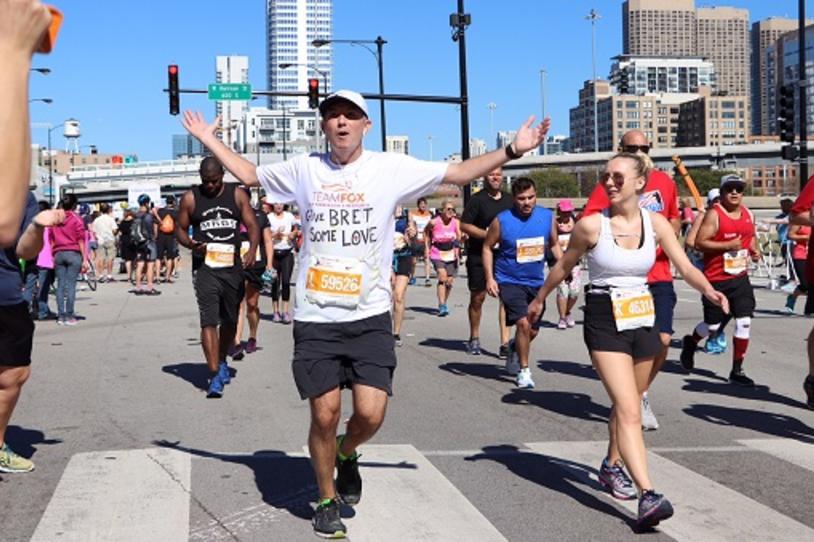 Year after year, Team Fox athlete and The Michael J. Fox Foundation (MJFF) Patient Council member Bret Parker outperforms. Since being diagnosed with young-onset Parkinson's disease (PD) at age 38, he has raised over $425,000 for PD research with fear-conquering adventures such as skydiving and a triathlon. And now, he's taking on his most his most extreme goal yet -- the World Marathon Challenge: seven marathons on seven continents in seven consecutive days.
"Part of my life philosophy is not letting Parkinson's hold me back and using it not as an excuse, but as reason to push myself even more in terms of physical and mental challenges," he says.
Bret sets out for the World Marathon Challenge -- which he prefers to call the "World Marathon Opportunity" -- 11 years to the day he was diagnosed. "When there's a bigger challenge, there's a greater opportunity to educate and inspire," he says. Bret is the first person with PD to take on the race.
From January 30 to February 5, Bret and 50 other participants will cross 16 time zones, running back-to-back marathons on consecutive days in Antarctica, South Africa, Australia, the United Arab Emirates, Portugal, Colombia and Miami. The logistics alone are "a good way to engage people and pivot to educate and raise awareness about Parkinson's," Bret explains.
With eight hours to complete each marathon before the plane takes off for the next location, he will rely on the support of his 16-person team, astutely named "Hold the Plane." He says, "I am fortunate to have amazing people I turn to when things are tough, celebrate with when there are achievements and laugh with when funny stuff happens."
Despite rigorous training, his Parkinson's remains a critical factor. He frequently consults a neurologist, movement disorder specialist, physical therapist and massage therapist, as well as taking breaks and decreasing mileage when necessary. While he can align medications with his training schedule, there are unpredictable responses he cannot control, such as foot cramping or stiffness in his right arm or leg. "There's really not too much to do about it when it happens so I basically have to wait it out," he says. In addition to motivational music -- like the "Rocky" theme song -- he credits Team Fox and World Marathon Challenge teammates in helping him clear each race's hurdles.
At home, Bret's family helps keep him on track -- holding him accountable for pre- and post-run stretching and (despite his protests) monitoring his cookie intake.
Enlisting the support of others, sharing his story broadly, and generating donations are part of his game plan. "My strategy has been to tell as many people about the race as possible, that way I can't back out," he says. Bret's World Marathon Challenge fundraising is fast-approaching his goal of $180,000, inching closer each day.
For Bret, these victories are about many things: proving that he is capable of overcoming obstacles, keeping his body and mind healthy, and raising both awareness and funds for PD research.
"Epic is different for everyone. For me, swimming is epic, skydiving is epic, whatever epic is to you and whatever lets you push," he says. "Shooting for something that is uncomfortable is a good thing."
Stay tuned for updates and photos throughout Bret's journey on Facebook.
Inspired to take on your own challenge (of any size)? Read more about creative Team Fox fundraisers in our community and get involved today!