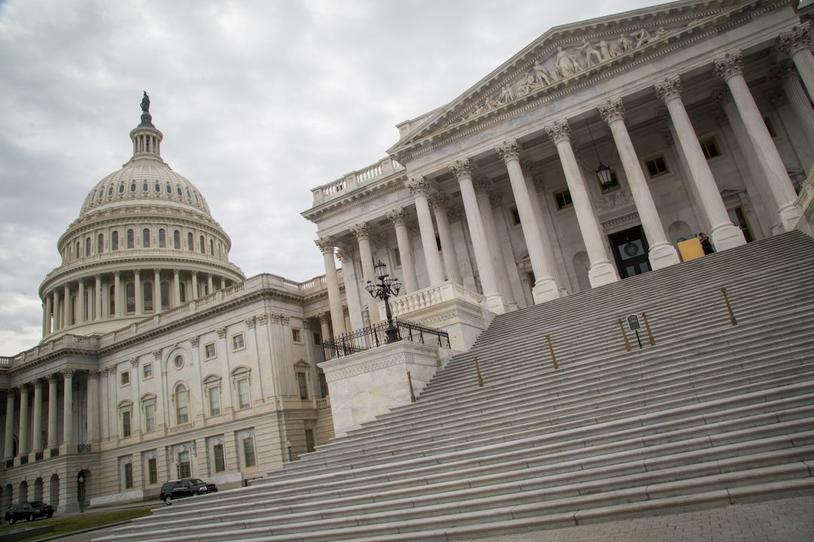 Policy advocates of The Michael J. Fox Foundation (MJFF) have been busy, and it shows!
One of the most important things Congress does is set the federal government's budget every year. In their planning for Fiscal Year 2022, which starts on October 1, the House of Representatives approved two important annual spending bills along with accompanying committee report language that specifically highlights Parkinson's disease (PD) as a priority for the coming year. This is due, in part, to the work MJFF advocates have done over the years in educating their members of Congress about PD. Thank you!
One of the annual spending measures, the Labor, Health and Human Services, and Education (Labor, HHS) Appropriations bill, includes four mentions of PD we want to tell you about:
 
The committee will continue to fund the National Neurological Conditions Surveillance System (NNCSS) at the Centers for Disease Control and Prevention with a $5 million infusion in Fiscal Year 2022. The NNCSS will collect data from already existing and new data resources about Parkinson's disease and other neurological conditions and provide it to researchers so they can have a better understanding of how, when, where, and why Parkinson's happens and what patterns might emerge.
The

committee also

encourages the National Institute of Neurological Disorders and Stroke (NINDS) —

the institute within the National Institutes of Health (NIH) where there is significant funding for Parkinson's research

— to rededicate their efforts toward finding a cure. Since its founding, MJFF has funded $1 billion in PD research, and we need the federal government to continue to partner with us on funding the most promising work. NINDS will be expected to inform Congress in the following year's budget process how they plan to prioritize Parkinson's research funding.
Research suggests that Parkinson's is caused by a combination of genetic and environmental factors.

The committee

urges the National Institute of Environmental Health Sciences (NIEHS) —

another institute within NIH that plays a role in PD research

— to collaborate with appropriate partners on researching the effects of chemicals and other toxins on Parkinson's development and progression. NIEHS also is expected to inform Congress in the following year's budget process how they plan to prioritize Parkinson's research funding.
Last, and certainly not least — in fact, this is huge! Congress has recognized that Parkinson's is not just a movement disorder but could also include dementia and that PD research should be prioritized in overall dementia studies.

The committee

"strongly urges" NINDS and the National Institute on Aging —

another institute within NIH

— to highly prioritize PD research both before, during, and after the onset of dementia.
Oh, wait. Did you think we were done? We're not. There's more.
The House-approved Military Construction, Veterans Affairs, and Related Agencies annual spending bill has accompanying committee report language recognizing the increasing number of veterans affected by PD. It directs the Veterans Administration to significantly increase its investment to maintain and expand Neurology Centers of Excellence dedicated to further understanding of Parkinson's and its impact on veterans.
These incredible policy "wins" could not have happened without advocates across America lifting their voices and speaking truth to power about the need for Parkinson's research to be a higher priority among all the federal entities that fund important research toward a cure.
Congress will be back in session full-time toward the end of September when they will make their final decisions on the budget and pass the Appropriations bills that fund Parkinson's research. Please use our action alert to email your Members of Congress and ask them to prioritize research toward a cure for Parkinson's. It's easy to do, takes about 90 seconds, and carries a lot of weight with Senators and Representatives as they prepare their votes.
Before we let you go, we have another update for you from Washington, D.C. Our community has been busy this summer! In August, MJFF advocates sent more than 6,400 emails to Capitol Hill which influenced 33 Members of Congress to sponsor the Credit for Caring Act — the bill that provides tax credits for family caregivers. When Congress is back in session later in September, we'll have a better idea of what happens next with this bill, so stay tuned. (Take action on this issue if you haven't yet.)
Our policy team is pumped and firing on all cylinders to continue this momentum into fall and winter.
Here's a heads up for October: We'll be focusing our advocacy efforts on Medicare because 90 percent of people with PD receive their health care coverage through Medicare. Medicare Open Enrollment starts on October 15, but we'll have several areas within Medicare where we will need your voice.
Thank you, again, to all the public policy advocates in our community who helped make all these important things happen. We couldn't do this work without you.