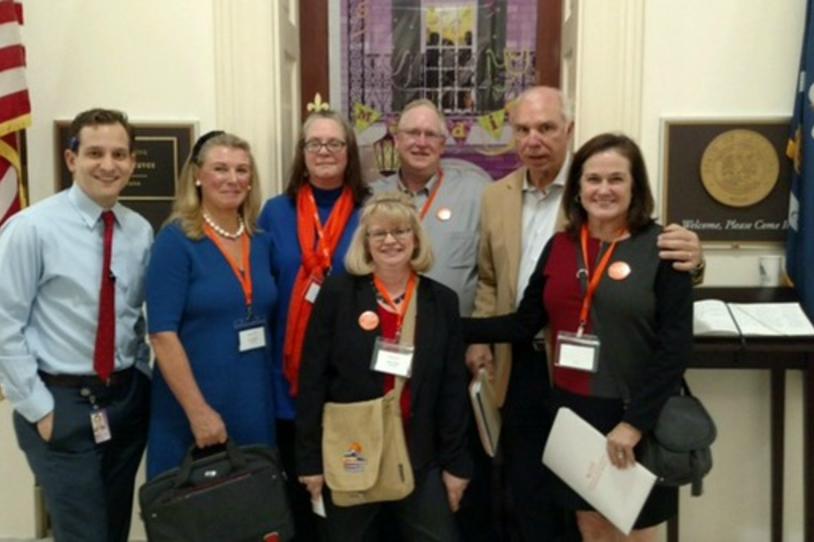 Earlier this week, more than 200 advocates from 43 states attended the 2017 Parkinson's Policy Forum in Washington, D.C. This annual event unites the Parkinson's community to learn about, discuss and take action on pressing policy issues related to Parkinson's research, drug development and access to health care. The Forum culminates with a day of meetings on Capitol Hill where people with Parkinson's and their care partners make their voices heard so that lawmakers can better understand the perspectives of individuals who live with the disease every day.
"Congress works for us, so it's our responsibility as constituents to let them know what the Parkinson's community needs and wants from elected officials," says Ted Thompson, JD, senior vice president of public policy at The Michael J. Fox Foundation.
Forum attendees came to Washington, D.C. for two days of training and one full day of meetings with lawmakers on Capitol Hill. They heard expert discussions on the ways public policy impacts the Parkinson's community and also participated in educational sessions to learn advocacy best practices. On the last day of the event, Michael J. Fox joined Forum attendees for one final session before everyone headed to Capitol Hill. A long-time policy advocate himself, he emphasized the critical importance of speaking out and making your voice heard.
"We're an active, concerned, involved community that has a right to expect that we get attention when decisions are made," Michael J. Fox said. "[I want] a senator or congressman to say, 'I'm going to make a decision' and just think for a second, 'That guy from Wisconsin that came in and told me that story about his life and about his situation... it had an impact on me and it's going to affect my decision.'"
After speaking with advocates, Michael met with bipartisan members of the House of Representatives and urged them to back policies that speed progress toward a cure and improve quality of life for people with Parkinson's.
Forum participants conducted nearly 200 meetings with members of Congress, during which they advocated for three issues: (1) securing federal funding for Parkinson's disease research, (2) maintaining policies that allow patients to access high-quality, affordable care and (3) increasing support for care partners.
"This was our third year at a Forum. We feel like we're building true relationships not only with legislators and their staff but with Parkinson's patients coast to coast," says Kelly Bement and her husband Benjamin, a person living with Parkinson's. "Lawmakers need to hear directly from patients and care partners to understand how their actions affect us. Our advocacy efforts can make a difference for the entire Parkinson's community."
Interested in advocating? Contact your lawmakers about policies impacting people with Parkinson's and their loved ones.