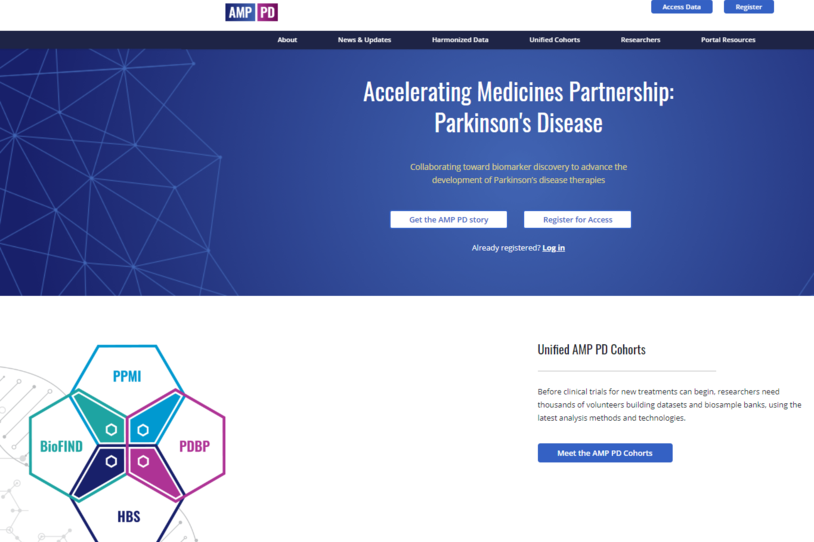 The Accelerating Medicines Partnership Parkinson's disease (AMP PD) program announces the launch of the AMP PD Knowledge Portal. This important resource combines data from several large studies to spur new research for Parkinson's. 
Todd Sherer, PhD, CEO of The Michael J. Fox Foundation (MJFF), says: "The AMP PD Knowledge Platform is an invaluable resource for the Parkinson's research community. Bringing these robust data sets together into a single, harmonized platform exponentially increases their potential to contribute to new biomarkers and therapies for Parkinson's disease."
MJFF is the non-profit partner of the AMP PD partnership, which began in 2018 and includes the National Institutes of Health (NIH), the U.S. Food and Drug Administration (FDA), and five life science companies (Celgene, GSK, Pfizer, Sanofi and Verily), managed through the Foundation of the National Institutes of Health (FNIH).
"AMP PD is a true example of the whole being greater than the sum of its parts," said NINDS Director Walter Koroshetz, MD. "The combination of many data sets will allow researchers greater power to analyze potential biomarkers for Parkinson's disease. This effort follows other AMP programs which have the shared goal of changing the way we go about the business of studying disease."
The AMP PD Knowledge Portal contains harmonized data from MJFF and NINDS's BioFIND Study, the Harvard Biomarkers Study, the NINDS Parkinson's Disease Biomarkers Program, and MJFF's Parkinson's Progression Markers Initiative (PPMI). It was designed to incorporate additional data sources and new types of data as the field progresses. Data from all studies remains available through each study's individual portal as well.
PPMI laid the groundwork for this new resource. Data from that study alone has been downloaded more than 5 million times, contributing to countless findings in Parkinson's. Combining data from PPMI with additional studies will make more breakthroughs possible.
Researchers can apply for access to the knowledge portal and interact with the entire data set through a single data use agreement on the AMP PD website. You're also invited to join a webinar on December 5 to learn more about this tool.