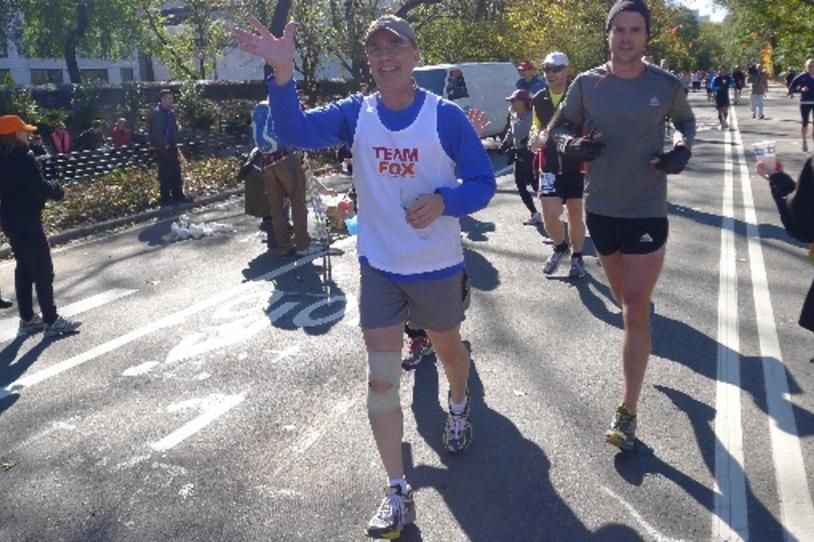 The "Going Beyond Dopamine" Webinar — part of our Hot Topics in Parkinson's Disease Research Seminar Series — covered different options for treating Parkinson's disease (PD), outside of medication. 
Bastiaan Bloem, MD, PhD, a consultant neurologist at the Radboud University Nijmegen Medical Centre, Netherlands, and Maurizio Facheris, MD, MSc, associate director of research programs at The Michael J. Fox Foundation (MJFF), spoke to MJFF Contributing Editor Dave Iverson.
Check out the Webinar now on demand.
Attendees sent us some questions after the event, and we enlisted Maurizio to help us with the answers.
You say exercise can help with Parkinson's symptoms. What kind of exercise should I be doing?
It's important for Parkinson's patients to keep their bodies moving. Joints and muscles are meant to be used, and exercise keeps them healthy. The stiffness resulting from lack of exercise can perpetuate Parkinson's symptoms. Additionally, if it's difficult to move, you don't go out, and isolation can exacerbate the disease. And there is lots of research showing that, Parkinson's or not, people who exercise experience universal health benefits.
However, for people with Parkinson's who want to start exercising, there are practical considerations to think about and discuss with your physician. Many Parkinson's patients are concerned about falls, and your doctor can discuss modifications or particular exercises that may be better suited for your current physical situation. Some exercise types like tai chi or yoga can help with balance and stretching, which PD patients may be interested in. Dance has proven so beneficial for those with PD that Parkinson's dance classes have sprung up around the country. Any activity that keeps you moving and is safe is a smart choice.
Can I ease Parkinson's symptoms with any special diet?
People with Parkinson's should be careful about timing of eating certain foods. Carbohydrates don't interfere with the effects of taking levodopa because carbs are absorbed quicker, allowing your body to take up the medicine. So you may want to have carbs for lunch and save protein for dinner. Talk to your doctor to make sure you are eating your macronutrients in the right proportions and at the right time for your optimal health.
Beyond timing, a well-balanced, healthy diet is always a good idea. Vitamins and antioxidants from fruits and vegetables and healthy fats from protein sources have a positive effect on your overall health.
Researchers are exploring how diet can affect Parkinson's disease symptoms. One area of focus is the ketogenic (high fat, low carbohydrate) diet. Ketones are biochemicals produced by breaking down fat; they replace glucose as an energy source in this diet. The ketogenic diet is used in treatment for epilepsy, but no results have been published on its safety or efficacy in people with Parkinson's. Before you toss the bread, think about how you also need energy to exercise and fight fatigue. Talk to your physician before starting any special diet.
You mentioned an herbal supplement during the Webinar. Can you tell us more about that?
The Mucuna pruriens plant, commonly known as "velvet bean," contains a natural form of levodopa (the same drug found in Sinemet used to treat the motor symptoms of PD).
While "natural" treatment options may hold a certain appeal, remember that they can bring unwanted risks of their own. Supplements are not standardized or tested to the same rigorous standard as FDA-approved therapies. You may not know how much levodopa is in each dose and therefore how often you should take the plant extract for optimal benefit. Especially with levodopa, where clinicians carefully manage the introduction of the drug to offset the risk of dyskinesias, relying on a natural supplement could lead to unexpected or undesired outcomes.
As with any treatment you are introducing into your Parkinson's regimen, take precautions with natural therapies and discuss them with your physician to be sure you fully understand the potential benefits and risks.
Hear Maurizio and Bastiaan talk more about these topics.
NOTE: The medical information contained in this article is for general information purposes only. The Michael J. Fox Foundation has a policy of refraining from advocating, endorsing or promoting any drug therapy, course of treatment, or specific company or institution. It is crucial that care and treatment decisions related to Parkinson's disease and any other medical condition be made in consultation with a physician or other qualified medical professional.