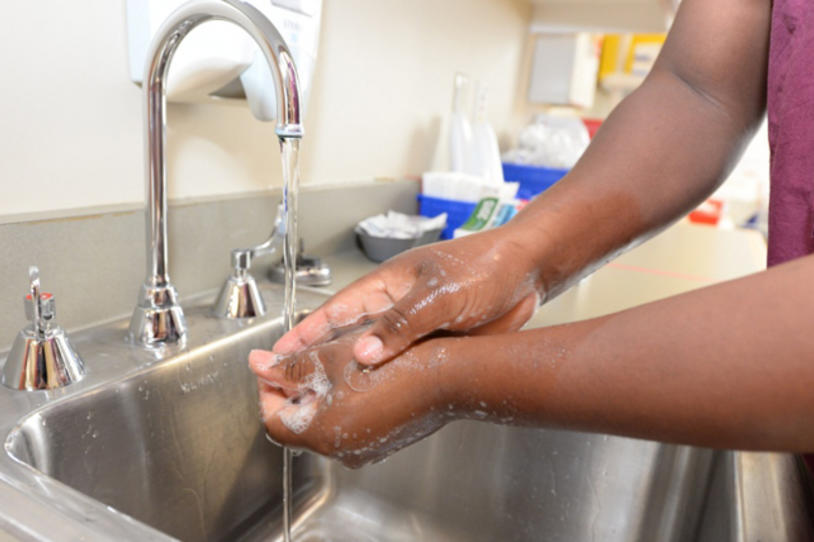 Editor's note: The information below was posted on March 11, 2020. Public health resources and status updates surrounding COVID-19 are rapidly changing, often day by day. Please visit the Centers for Disease Control and Prevention (CDC) website or your state health department websites for the most recent information and guidance.
As Coronavirus Disease 2019 (COVID-19), a new respiratory virus that originated in China, continues to spread around the world, people with Parkinson's disease (PD) may understandably be worried about what this could mean for them and their health. For most people, COVID-19 causes mild symptoms, similar to the common cold. But for some, it can cause more significant symptoms, including difficulty breathing and pneumonia. While we don't know specifically how the virus affects people with PD or other neurological diseases, we do know that older adults and people with serious medical conditions, such as heart or lung disease, may be at higher risk of experiencing more significant illness.
To put the situation in context, we spoke with movement disorder specialist Susan Bressman, MD, Mirken Family Professor of Neurology at Icahn School of Medicine and Director of the Bonnie and Tom Strauss Movement Disorder Center, Mount Sinai Health System.
While no one is yet an expert on COVID-19 and Parkinson's, Dr. Bressman says, "Information on COVID-19 is changing daily, but I can tell you what I am telling my own patients as of today."
The Michael J. Fox Foundation for Parkinson's Research (MJFF): Should people with Parkinson's be more concerned about getting COVID-19 than other people?
Susan Bressman (SB): I think of COVID-19 as being like a really, really bad flu. We're learning more about it — how it spreads, the odds of getting it, how we can treat it — but we still need more information.
Having Parkinson's, by itself, may not put you at an increased risk of getting COVID-19 or, if you do get it, having a more significant illness. For example: If you are 50 years old, newly diagnosed and otherwise healthy, it's hard to say more than "you should take standard precautions." But if you are older and have advancing Parkinson's that significantly affects your movement, or if you have other conditions such as heart, lung or kidney disease, you may need to take more precautions, such as not traveling or avoiding routine doctor visits. Because Parkinson's is so individualized, it's hard to make a blanket statement. If you aren't sure which category you fall into, talk with your doctor. But here's my takeaway: Be careful and don't take risks you don't have to take.
MJFF: Are there specific ways COVID-19 might affect someone with PD differently from someone without PD?
SB: We don't yet know specifics on how the virus might affect a person with PD. But any infection — a urinary tract infection, pneumonia or the flu, for example — can temporarily worsen Parkinson's symptoms. So someone with COVID-19 would probably see an increase in their usual symptoms — more difficulty moving or more "off" time, for example. And COVID-19 treatment focuses on managing symptoms, such as cough, fever and pain, because there is not yet a treatment that targets the virus itself. Always talk with your doctor and pharmacist before taking any medications, including over-the-counter medications. Some cough and cold medications should not be taken with certain Parkinson's medications (MAO-B inhibitors, such as Azilect/rasagiline or Xadago/safinamide), so it's always good to check.
MJFF: Should I cancel my regular doctor visit?
SB: That depends on your symptoms, age and transportation to the visit. Having Parkinson's and being older doesn't mean you can't go out at all. Say, for example, you are 70 years old and you aren't doing well (you are having significant "off" times) and you have a car you can take to the doctor's office. It might be a good idea to go in. If, on the other hand, you are stable and you'd have to take public transportation to the appointment, it might be okay to skip. Remember you can always call and speak with your doctor about anything that's going on. My clinic also is setting up telemedicine visits, which will be really helpful. Ask if your doctor's office offers that option.
MJFF: Should I stay home from all activities?
SB: If you have a serious medical illness, such as cancer, heart disease, diabetes or any other disease that compromises your immune system, and you are over the age of 60, you may want to limit your outside activities. Meaning, you might want to go shopping or to an important doctor's appointment and then right back home. But unless you feel sick or have been advised to stay home, I don't think you have to avoid all outside activity.
MJFF: What should I do if I feel sick?
SB: If you have symptoms, such as a cough, fever or shortness of breath, call your doctor, local emergency room or urgent care, or 911. They can advise you on what to do next and/or prepare for your arrival.
MJFF: Should I stock up on medication?
SB: Some insurance companies are lifting restrictions that typically allow only a one-month supply of certain medications at a time. If you can, try to have a three-month supply of medication. If cost is an issue, as it may be for many people, make sure you have at least a one-month supply and talk with your doctor and pharmacist about other options. And get your drugs delivered, either through your local pharmacy or an insurance mail-order service.
MJFF: What else can people with Parkinson's do to prepare?
SB: Check in with your support system. Make sure you have people you can call on to run errands if you need groceries or other supplies. And check out the CDC recommendations for protecting yourself.