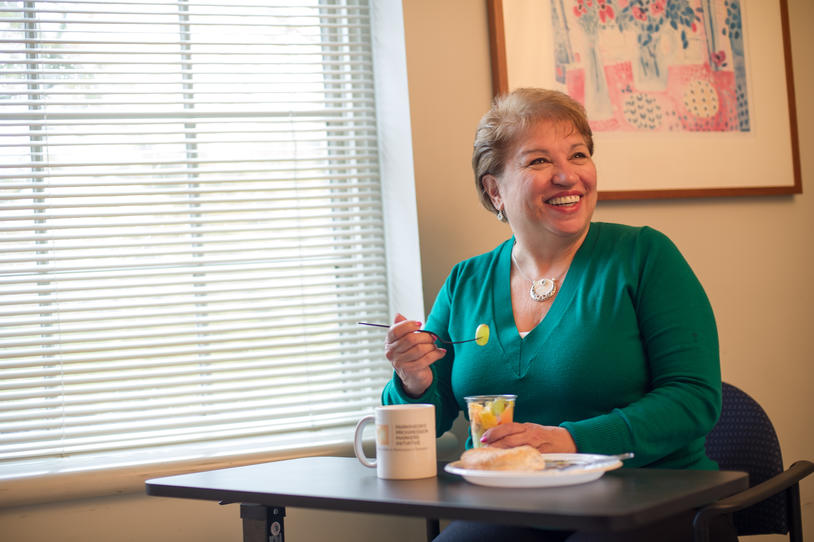 Across the country, some doctor's offices, restaurants and other businesses are reopening after temporarily shuttering in response to the coronavirus disease (COVID-19) pandemic. Many are excited to get back to life as we once knew it while others are, understandably, nervous about what that will look like and how to stay safe. As you resume activities outside the home, consider these tips:
Continue recommended precautions.  
As we reintegrate into society, it's important, perhaps even more so, to continue protecting ourselves and others from COVID-19 exposure. This includes washing or sanitizing hands frequently, wearing a mask and maintaining social distance in public. If you are at higher risk with the virus (you are older or living with advancing Parkinson's or other conditions, for example), consider limiting time outside to essential trips (such as for groceries, medicine and doctor visits). Learn more about COVID-19 and Parkinson's and follow your local, state and national guidelines.
See your doctor in person, if necessary.  
During the height of COVID-19, many people received care through telemedicine, which remains an option for routine, non-urgent, ongoing care. But some procedures, such as deep brain stimulation (DBS) surgery or programming and botulinum toxin injections, require an in-person visit. So do significant changes in symptoms or health, which you may have been managing at home or which loved one may recognize when you reunite. Many doctor's offices and hospitals now are offering more in-person appointments and elective surgeries, including DBS, with new safety precautions (such as wearing masks and other protective equipment and limiting the number of appointments or visitors) to decrease risk of virus exposure.  
Vary your routine.
Routine is good — it can help you ease stress, optimize sleep, and build healthy habits and self-care into daily life. With the uncertainty and unpredictability of COVID-19, many of us created or adapted routines. But over time, routines can become too predictable. Changing things up occasionally may not only keep you off "autopilot," but also lead you to new routines that better suit you. Try switching the order of usual activities (walk outside, journal then meditate vs. meditate, journal then walk) or subbing new types of activities (a new exercise class in place of your go-to or walking a different route than normal).  
Stay connected.
Through technology, we have built, rekindled or deepened relationships with loved ones, friends and fellow community members. As life resumes and calendars fill up, work to maintain those connections. Schedule regular chats via technology, telephone or, if you are comfortable, a safe, in-person distance. And consider other ways to keep in touch: handwritten notes, a text to check in, or a homemade gift to let someone know you're thinking of them.
Keep learnings in mind.
For many, this has been a time to reflect on the activities and relationships that matter most. Some have felt the importance of prioritizing self-care, focusing on the present moment or being grateful for the little things. Others have vowed not to take for granted the ability to travel or hug a loved one. Take these learnings with you as you move back into daily life. You may want to schedule self-care time or write a gratitude list in the morning or pause to check-in with how "present" you are each afternoon.
Be kind and patient.
As we figure out our "new normal," give yourself and others a break. All our social and other activities — commuting on public transportation, working out at the gym, eating at a restaurant, even visiting the doctor's office — are likely to look much different than we're accustomed to. And each of us experiences a different comfort level in how and when to resume pre-COVID-19 activities. Practice understanding and patience as we work together to navigate the new world in which we live. This is bound to be stressful for us all. Knowing that stress can increase movement symptoms or anxiety, give yourself extra time, space and tools to manage.