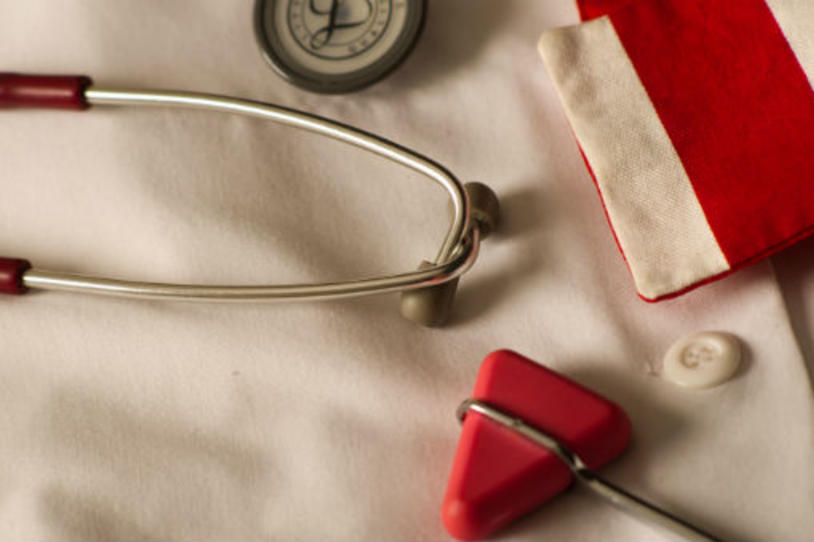 When living with Parkinson's, it's important to build a team of health care professionals who can help you manage symptoms and medications. If you take prescription or over-the-counter drugs, even occasionally, you may want to add a pharmacist to your team. We spoke with Brittany Denson, PharmD, a clinical pharmacist at UAB (University of Alabama at Birmingham), and Larry Gifford, an MJFF Patient Council member who was diagnosed with young-onset Parkinson's at age 45, to learn more about how pharmacists can help you manage medication and life with Parkinson's.
The Michael J. Fox Foundation (MJFF): Why is it important for a pharmacist to be part of the Parkinson's care team?
Brittany Denson (BD): Pharmacists are medication experts. We are here for safety — to make sure that a patient is on appropriate medications and they're safe to use together. But we're also here for education — to help a person understand how to take medication and any side effects they might experience. In Parkinson's, medication regimens can be complex or expensive, and timing is important. We can suggest strategies to help figure out your daily routine; manage side effects; and navigate insurance, cost or access issues.
Larry Gifford (LG): My pharmacist has a lot of knowledge and resources about the medicines I'm taking and the reactions those medicines can have. The way I think about it is this: If I have a question about Parkinson's, I am going to ask my neurologist, and if I have a question about medicine, I am going to ask my pharmacist.
MJFF: How can a pharmacist help navigate challenges that may arise with getting or taking medication?
BD: If you're struggling to take your medication — if you forget, if it's a physical problem (swallowing problems can make tablets hard to take), or if it's expensive and you can't cover the cost — we can help you navigate those issues. With swallowing problems, for example, we can recommend different forms, such as liquids or capsules that can be sprinkled on applesauce, that you can discuss with your doctor. And we can explain medication costs, insurance coverage and what resource may be available to you, such as co-pay cards or grant assistance programs.
LG: When things crop up, like a cold or migraines, you might want to talk with your pharmacist to make sure your doctor puts you on medications that don't cause reactions or drug interactions. And most of us are on levodopa and natural vitamins, minerals or probiotics. We want to make sure those are absorbed as effectively as possible and not counteracted. The other thing is that sometimes Parkinson's medications may be in limited supply or unavailable; your pharmacist can recommend a switch or generic brand that you can discuss with your doctor.
MJFF: How can a pharmacist help you manage your medication regimen?
BD: Pharmacists can go through what your medications are for, what time of day you take them and how many times a day you take them. We can recommend tools to help you understand and follow daily routines, such as a pillbox (to plan your week or month) or a "medication action plan," online or through a smartphone app. (Search "My Med Schedule Plus" in the App Store to download this free app.)
Sometimes people forget to ask about herbal supplements or over-the-counter medications like vitamins or cold medications. Pharmacists can tell you how these may interact with your other medications and if you should take them at a certain time of day, with or without food, or separate from other medications.
LG: I ask my pharmacist questions about how my medication fits into my lifestyle. If I forget a dose, if it's an hour late, do I hold off or do I hurry up and take it? Or if I need a dose right away, what's the quickest way to get it working? I also get counsel from my pharmacist if I think my doctor might put me on a new drug — I'll ask about interactions, side effects and anything else I should know.
MJFF: How do you find a pharmacist? What do you look for?  
BD: Finding the right pharmacist for you can be tough. At UAB, we have a unique situation where the pharmacist is embedded in the clinic and we work directly with the doctors and patients. But in the community, a lot of people get their medications at a chain, such as CVS or Walgreens, or a local store that's owned by a single pharmacist. There are many options, and all have their pros and cons.
Look for a pharmacist who is knowledgeable, personable, approachable, great at communicating and problem-solving, and empathetic. Find someone who takes the time to get to know you on a personal level so you can build trust and a relationship.
LG: Look for someone who is open, honest and forthright; someone who is knowledgeable and can answer your questions. You want to be on a first name basis with your pharmacist so they know you and know about you. Tell them who you are, that you are going to be around a lot and that you consider them part of your team. And maybe even ask them to alert you if they hear or read something you may be interested in because you have Parkinson's.
MJFF: How do you work well with your pharmacist?
BD: Be open and honest. Sometimes patients may not tell exactly how they are taking their medication out of fear, embarrassment, or not wanting to disappoint their doctor or us. But if you aren't able to take your medication for a particular reason (swallowing problems or cost, for example), it's important for us to know that reason so we can offer solutions or alternative medications.
LG: If you notice you're running out of meds, try to call in the prescription before you really need it so they have time to fill it and you aren't panicking. On the other hand, if you have a relationship with your local pharmacist, you might even have their cell number and they might open for you when they're closed if you really do need meds.
You are asking the pharmacist for advice, so be open and honest with them about what you're taking. That includes supplements, minerals, probiotics — anything they don't have a record of and may not be aware you're taking. You also want to tell your pharmacist exactly how you are taking your medication — if you're cutting pills or missing doses.
MJFF: What tools or strategies help optimize relationship with your pharmacist or pharmacy?
BD: If you use chain pharmacies, fill all of your prescriptions at one chain. This helps them keep track of what you're taking and monitor safety and drug interactions. You also might consider meeting with the pharmacist every time you pick up a medication, even if you know what you're taking and why. You could get home and the medication might look different because there's a new generic. There is always something that can be learned from a brief encounter with a pharmacist.
MJFF: How do you coordinate communication with your pharmacist, doctor and other care team members?
BD: Unfortunately a lot of the responsibility can fall to the patient, and this can be cumbersome, but you can be proactive. Be aware of any changes that are made and of all the members on your team, especially if you see doctors with different medical record systems. Keep a running list of who prescribes what. Always ask for medication printouts from your doctors and pharmacist and bring your list to doctors' visits.
LG: When you're at the neurologist, make sure they send a report to your family physician and call in prescriptions to the pharmacist. Likewise, when you go to the family physician, make sure they're communicating with your neurologist. When you get blood tests done, make sure the report goes to all of your physicians. I'm always advocating on behalf of myself and my doctors to make sure they all have the same information. But it's hard. It's a lot of work.
Larry Gifford is the moderator of MJFF's free, full-day, educational PDIQ + You community events. Register for PDIQ + You in Atlanta, Georgia on September 14, 2019.