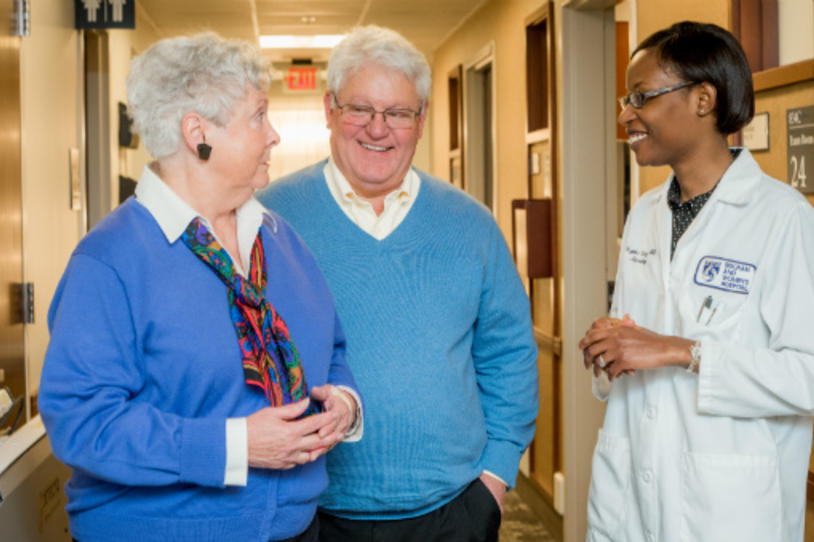 Levodopa was approved to treat Parkinson's disease (PD) over 50 years ago and today it remains the "gold standard" of treatment. As levodopa is the most effective medication to ease Parkinson's symptoms, most people will take it at some point in the course of their disease. Misconceptions surrounding it, though, can contribute to fear of starting it or taking optimal dosages. Here I address common myths about levodopa, but always discuss any apprehensions you may have about medications with your personal physician.
Levodopa is the only drug for Parkinson's.
This drug is the most commonly prescribed medication for Parkinson's disease, but dopamine agonists (e.g., Mirapex, or pramipexole) and MAO-B inhibitors (e.g., Azilect, or rasagiline) are some of the other medications available to manage Parkinson's motor symptoms. These can be used either instead of or together with levodopa. (Read more about Parkinson's drugs.)
Levodopa loses effectiveness over time.
After taking levodopa for some time, it certainly may feel like the drug is less effective. Often, higher and/or more frequent doses are required to control symptoms. However, this is mostly due to gradual worsening of the underlying disease rather than medication's effects diminishing. As long as you take it, levodopa will remain beneficial. But, if the natural progression of your disease requires higher levodopa doses, side effects -- including dyskinesia (irregular, involuntary, uncontrolled movement) -- can occur. This may lead to a dose reduction, which, in turn, may limit some of the drug's benefit on symptoms, such as tremor. (Note that some individuals may not tolerate a dose reduction, preferring dyskinesia to other symptoms.)
Levodopa always causes dyskinesia.
Although most people with PD eventually develop dyskinesia, not everyone does. Dyskinesia's uncontrolled movements often occur at the same time that other PD symptoms (e.g., tremor or rigidity) are suppressed. Major risk factors include higher levodopa doses, younger age at diagnosis and longer course of disease. Severity of dyskinesia varies greatly from person to person; it can look like mild leg fidgeting, bobbing of the head or body swaying. An extended-release form of the commonly prescribed drug amantadine was recently approved by the U.S. Food and Drug Administration (FDA), becoming the first drug specifically indicated to treat levodopa-induced dyskinesia. Several medical and surgical options for dyskinesia also are in development. (Find out more about dyskinesia.)
Avoiding levodopa is the best way to treat Parkinson's.
Because of the above concerns, some people may opt for other medications or even look to surgery (e.g., deep brain stimulation) to sidestep levodopa. Every person's symptoms and medication response is different, which means not everyone will tolerate levodopa or add it to their regimen. However, it shouldn't be avoided simply for the sake of avoidance. No drug or surgery has been shown to be superior to levodopa for PD, so avoiding levodopa may result in worse overall treatment of PD symptoms. (Previous clinical trials did show a lower dyskinesia risk in those who initially started dopamine agonists as opposed to levodopa, but those on levodopa reported an overall better quality of life.) Work with your doctor to find the best treatment(s) for you. There is no single regimen that is best for everyone.
Taking levodopa always requires adjustment of dietary protein intake.
Dietary protein does affect the absorption of levodopa. (The two are absorbed at the same location in the small intestine.) For many people, this effect is small and not noticeable. For others, eating high-protein foods (e.g., certain dairy products, chicken and red meats) at the same time as levodopa can result in less medication benefit (e.g., wearing off of medication effect and return of symptoms before the next dose of medication is due). Especially in these situations, many doctors recommend separating levodopa from dietary protein intake, generally 30 minutes before or 60 minutes after a high-protein meal. (Discover more about diet and Parkinson's.)
Levodopa is toxic.
Long ago, levodopa was proven safe and effective for the treatment of Parkinson's disease and rapidly gained acceptance around the world. However, driven largely by the frequent occurrence of dyskinesia, some researchers questioned whether the drug could potentially be harmful to dopamine-producing brain cells and thereby speed progression of disease. Many studies have failed to support these claims, and a study in newly treated patients showed that those on higher doses of levodopa had better quality of life and less disability compared to those on lower doses, which argues against toxicity.
Levodopa dosing is standardized.
There are multiple FDA-approved formulations of carbidopa/levodopa (e.g., Sinemet, Sinemet CR, Rytary) and the maximum labeled dose of levodopa is not the same for each one. This can lead to patient confusion and insurance company denial of medication coverage. Sinemet's label dictates a maximum of eight tablets per day, regardless of whether the levodopa dose is 100 or 250 mg, whereas Rytary, an extended-release formulation, lists a maximum levodopa dose of 2450 mg per day. Some of this has to do with differences in the amount of levodopa that is absorbed, but this can vary widely from person to person. An individual's optimal levodopa dose must be determined by working closely with their movement disorder specialist. Depending on symptoms, duration of disease and efficiency of absorption, a person may require more than what's listed on the drug's label. As with all medications, though, the lowest dose that effectively controls symptoms is always best.
Find more on levodopa, other PD medications and things to consider throughout your journey with PD in our Parkinson's 360 toolkit.
John Y. Fang, MD, a movement disorder specialist and associate professor of neurology at Vanderbilt University Medical Center reviewed this content.
* NOTE: The medical information contained in this article is for general information purposes only. The Michael J. Fox Foundation has a policy of refraining from advocating, endorsing or promoting any drug therapy, course of treatment, or specific company or institution. It is crucial that care and treatment decisions related to Parkinson's disease and any other medical condition be made in consultation with a physician or other qualified medical professional.