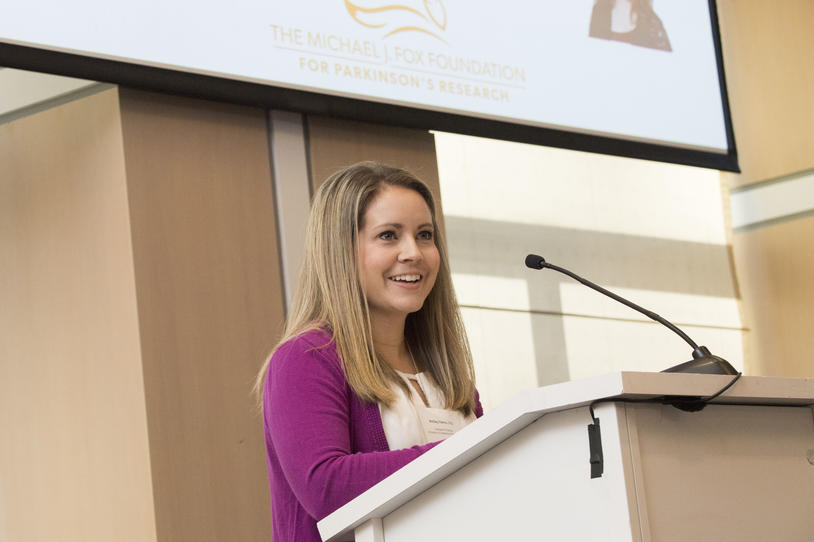 For nearly 15 years, Ashley S. Harms, PhD, has been dedicated to Parkinson's research and finding a cure for those with the disease.
Her work in the Parkinson's field started at the University of Texas Southwestern in Dallas. She was intrigued by the complexity and diversity of the research. Later, during her postdoctoral fellowship, she was invited to shadow appointments with patients, and that's when she truly understood the value of what she was working on.
"Meeting all of the people with Parkinson's was a game changer for me — getting to see their faces and really understand what their challenges are," Dr. Harms says.
Today, she is an assistant professor at the University of Alabama at Birmingham in the Department of Neurology.
Her research focuses on how the immune system drives the progression of Parkinson's. She studies inflammation and how targeting it may help the survival of neurons, a type of brain cell, which in turn may slow disease progression. Dr. Harms has received three research grants from The Michael J. Fox Foundation (MJFF) to advance her important research.
On a normal day, Ashley trains the next generation of researchers in her lab, which consists of six people. However, much of their work has been put on hold due to the coronavirus pandemic. They have temporarily shut down and halted new experiments, but they are doing their best to keep projects moving forward.
Since she's currently working from home, Dr. Harms has been spending a lot of time writing and editing scientific papers, which typically take months to finalize. In a recent paper published in Progress in Brain Research, she and several other scientists explained findings related to the immune response in the development and progression of Parkinson's. They also discussed key questions that still need to be answered in order to identify treatments that may suppress or stimulate the immune system, with a goal of slowing Parkinson's.
Outside the lab, Dr. Harms likes to give back to the community in any way she can. This past March, she attended MJFF's Researcher Hill Day in Washington D.C. — an event where researchers attend an advocacy training and then a day of meetings with elected officials on Capitol Hill. They advocate for increased federal funding for Parkinson's research.
"If we invest in research now, we could make a difference later," she says.
This Parkinson's Awareness Month, MJFF honors those in the scientific community who play a key role in our effort to advance new treatments and speed a cure for Parkinson's. Thanks for all you do, Dr. Harms.
Stay tuned to our social channels as we highlight more stories from the Parkinson's community. Find us on Facebook, Twitter, Instagram and LinkedIn. Tag us and use the hashtag #ParkinsonsAwarenessMonth to join the conversation.