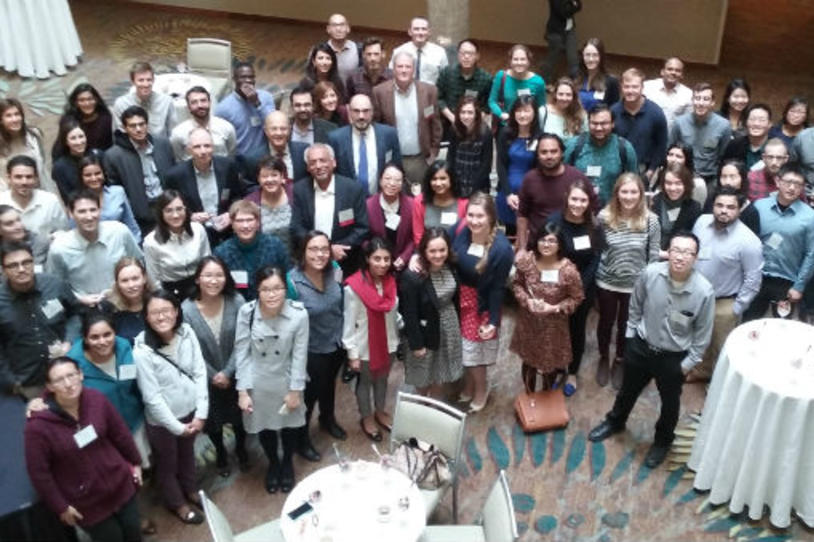 It's been quite a few years since I was a neurology resident, or a doctor learning how to manage different neurological conditions, such as stroke, seizure and Parkinson's disease. Even though a good bit of time separates me from residency, I remember well how I came to the decision to focus my career on movement disorders during those four years. And so when I recently found myself speaking to a room full of 84 neurology residents, some of whom were unsure which path to take after training, I could identify easily with my audience. What I mainly shared with these individuals (some of whom had had little or no exposure to movement disorders at this point in their training) was the rapid progress in Parkinson's research, and its impact on patient care and the field as a whole.
My presentation was part of the second annual MDS-PAS Movement Disorders School for Neurology Residents, a two day course that aims to educate neurology residents about movement disorders and motivate them to consider specializing in the field. Participants, who spanned all levels of neurology training, traveled from academic centers across the United States, Canada and Puerto Rico to hear lectures from internationally recognized movement disorder experts, meet with patients and discuss what the practice of movement disorders entails. The students asked insightful questions, networked and absorbed as much information as they could. Many commented on the high-quality of the presentations and how the course would ultimately help inform their decision-making about a subspecialty career. One even described the experience of examining patients along with expert clinicians as "invaluable."
Courses such as this, which seek to increase education and interest in movement disorders, are critical. We're already experiencing a shortage of movement disorder specialists in the United States and an aging population means the number of people with Parkinson's is on the rise. (PD diagnoses increase with age.) We have a growing demand for specialists.
To build the base of doctors well-trained in PD diagnosis and management, MJFF supports the neurology residents' course and provides funding for training of movement disorder specialists. Launched in 2014, The Edmond J. Safra Fellowship in Movement Disorders awards academic centers funding to train movement disorder specialist clinician-researchers. Each center tailors an individual's two year program to meet his or her needs and interests.
By providing additional opportunities to educate doctors about movement disorders during residency and train them in fellowship, MJFF is working to improve access and care for people with Parkinson's.

The second annual MDS-PAS Movement Disorders School for Neurology Residents was made possible with support from The Edmond J. Safra Foundation and The Michael J. Fox Foundation. Additional support was provided by Abbott, AbbVie, Acorda Therapeutics, Lundbeck and UCB. While these generous sponsors made the educational offerings possible, their support did not influence content, perspective or panelist selection.
Find a movement disorder specialist near you.
See the centers selected for the 2017-2019 Edmond J. Safra Fellowships in Movement Disorders.