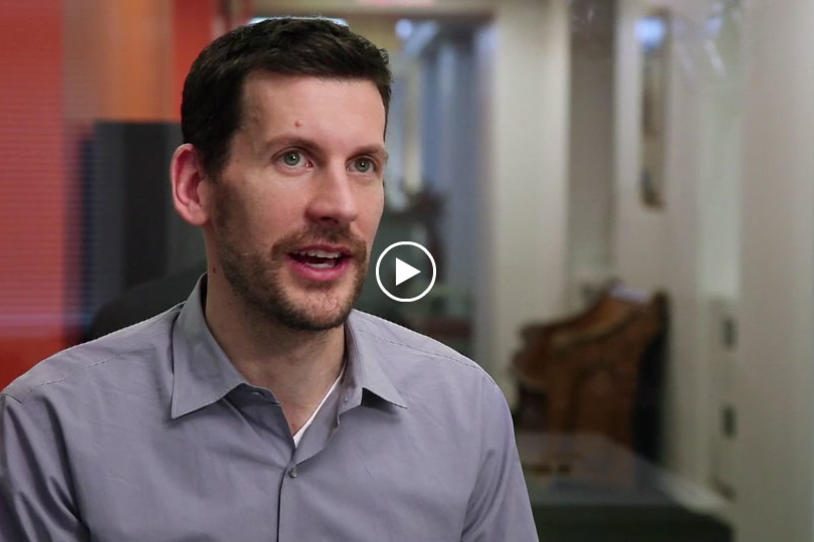 Brian Fiske, vice president of research programs at The Michael J. Fox Foundation (MJFF), is profiled in a video project from Thomson Reuters' released today called "Building the Future," which highlights five "builders" that partnered with the business data-providing giant over the past year.
The MJFF-driven segment is called "Building Hope," and focuses on the Foundation's work encouraging researchers to share tools and data toward the end goal of finding a cure for PD.
"Some of the simplest ways of getting scientists to focus on the critical questions at hand is to bring all that information together, have them look at it, and actually uncover where the critical questions still lie," says Fiske.
MJFF is working with Thomson Reuters to do just this, by developing biological maps that could help the research community at large better identify possible causes of PD.  These maps could become useful tools for PD researchers to highlight mutations in the LRRK2 protein, the most common genetic contributor to the disease discovered to date.
Fostering collaboration is a major component of the Foundation's overall approach to LRRK2, designed to streamline and orchestrate drug development around the gene. MJFF's aim is to bring research groups together early on — sharing resources, troubleshooting common problems and identifying best resources — to speed collective efforts to move LRRK2 toward practical therapeutic relevance for patients.
It is this desire for better treatments for people with PD that keeps the Foundation moving forward.
"What motivates us at the end of the day is that we can actually make a real difference," says Fiske.  "We're building collaboration. We're building hope. That's part of our mission as well."