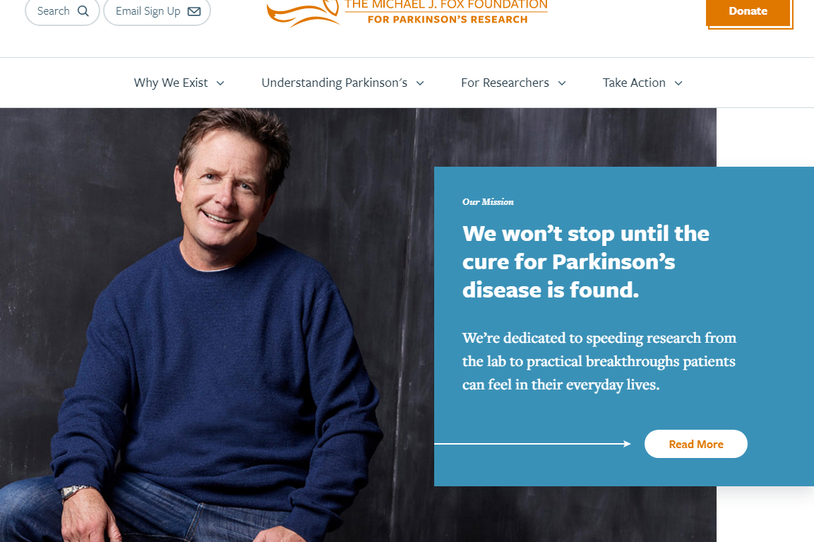 Have you visited the new michaeljfox.org yet? Earlier this month, The Michael J. Fox Foundation for Parkinson's Research (MJFF) unveiled a complete redesign of our online home base — michaeljfox.org. The new design brings an improved user experience for patients, families, researchers and industry partners to better connect new and returning visitors with critical information on living with Parkinson's and opportunities to get involved in the Foundation's mission to eliminate Parkinson's disease (PD).
"Our website is a key resource to serve the Parkinson's community with trusted information on this highly complex disease," said Todd Sherer, PhD, chief executive officer of MJFF. "Our single-minded goal of curing Parkinson's will be achieved only with the active engagement of a highly informed patient community. The updated website will enable us to better connect with the millions impacted by Parkinson's worldwide to provide the information and education that community requires on an ongoing basis."
Visit michaeljfox.org to check out site-wide improvements and new features, including:
Responsive, modern design, allowing users to navigate content on tablets and mobile devices as well as desktops

Simplified and streamlined navigation making it easier to access trustworthy, up-to-date information on Parkinson's disease and the latest research and policy activities to speed a cure

Better grant application experience connects the research community with funding opportunities to speed scientific breakthroughs

A Take Action section to help drive patient and family engagement in vital opportunities to take part in speeding a cure
Take a tour of our new website and follow the Foundation's progress on our mission to cure Parkinson's. Then, join our community to sign up for access to breaking news emails, event invitations and Parkinson's resources.