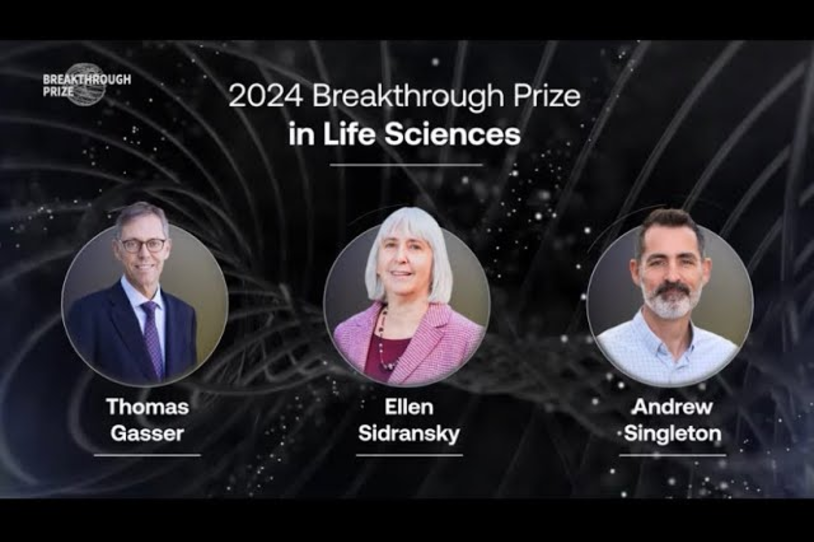 Last week, The Breakthrough Prize Foundation announced the winners of the 2024 Breakthrough Prizes, honoring "the world's most brilliant minds for impactful scientific discoveries." Awards are presented in the fields of Life Sciences, Fundamental Physics and Mathematics, and the 11 winners will share five $3 million prizes to further their research. Known as the "Oscars of Science," the Prize was created by well-known leaders in technology and philanthropy: Sergey Brin, Mark Zuckerberg and Priscilla Chan, Julia and Yuri Milner and Anne Wojcicki. 
Three winners were recognized for their work to advance research in Parkinson's disease. 
Andrew Singleton, PhD, a National Institutes of Health (NIH) Distinguished Investigator, and Thomas Gasser, MD, PhD, of Germany's Hertie-Institute for Clinical Brain Research are being honored for independently proving that mutations in the LRRK2 gene are linked to Parkinson's. 

Ellen Sidransky, MD, is Branch Chief of the Medical Genetics Branch at the National Human Genome Research Institute, part of the NIH. She is credited with identifying mutations to the gene GBA as a genetic risk factor for PD.  
All three have received funding from The Michael J. Fox Foundation (MJFF) and their findings have influenced where we are today in drug development. Greater understanding of the underlying biology of the disease is leading to more precise therapies targeting these biological processes. Therapies against both LRRK2 and GBA are currently in human testing and MJFF is working toward more precision-based approaches.  
In 2019, MJFF awarded Singleton the Robert A. Pritzker Prize for Leadership in Parkinson's Research. His team has worked to understand how common genetic changes influence disease, and, collectively, they have identified 90 genetic risk factors for Parkinson's. Singleton leads the Genetic Study Core of MJFF's landmark Parkinson's Progression Markers Initiative and is principal investigator of the Global Parkinson's Genetics Program. GP2 is a resource of the Aligning Science Across Parkinson's (ASAP) initiative and is implemented by our Foundation. (Fun fact: In 2015, another Pritzker Prize recipient and Singleton's mentor, John Hardy, PhD, was awarded the Breakthrough Prize.)  
MJFF has long funded Gasser's work to profile LRRK2 mutations and explore its presence in varied populations. More recently, our Foundation is supporting his training of the next generation of clinician-scientists. Gasser serves as a Fellowship Director for The Edmond J. Safra Fellowship in Movement Disorders, a partnership between MJFF and the Edmond J. Safra Foundation that is helping to grow the global base of Parkinson's experts. The University of Tubingen in Germany is one of eight international centers selected to train the eighth class, which will complete fellowship in 2025. (Gasser and the University of Tubingen were also awarded to train the inaugural class of Edmond J. Safra Fellows that graduated in 2018.)
Sidransky is part of the ASAP's Collaborative Research Network (CRN), an international and multidisciplinary network of investigators working to address high-priority basic science questions. MJFF is the implementation partner of ASAP, which is fostering collaboration and resources to better understand the underlying causes of Parkinson's. Sidransky's CRN project is exploring the biology of the GBA pathway as it relates to Parkinson's disease. 
The study of Parkinson's genetics has come a long way since the initial discoveries by these field leaders. Today these scientists and a next generation of geneticists are translating LRRK2 and GBA findings to treatments and new breakthroughs that will change the course of Parkinson's disease.