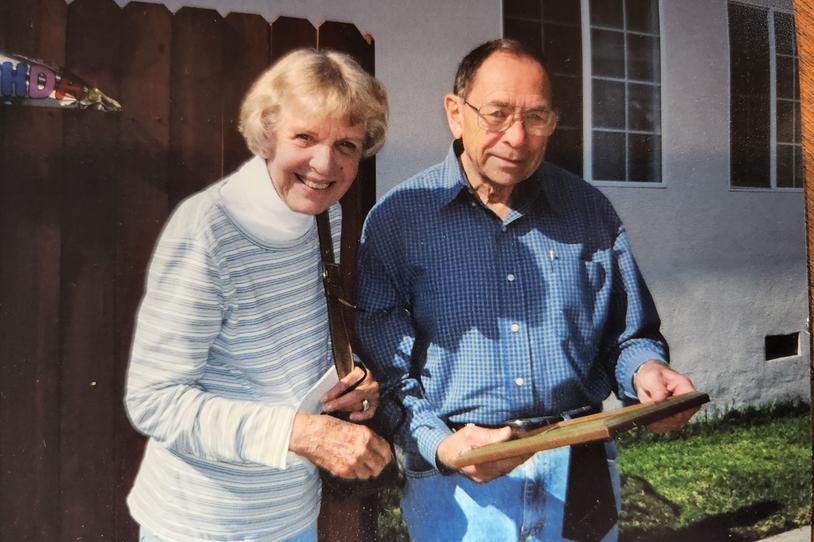 Robert and Mary Hirshson lived a simple, quiet life. They spent their entire careers working for Hughes Aircraft Company in Los Angeles, meeting through the company's ski club in the late 1950s. They traveled, collected art and remained avid skiers into their 80s.
The couple lived in the same house for more than 50 years, made each other homemade cards and drove a spotlessly maintained 1996 Toyota.
"They were interesting and liked to have fun, but they were also quiet and modest," says the couple's niece Nancy McConnell. "They saved their pennies over the years and amassed a nice savings, but you would never know from meeting them that they had money."
The Hirshsons carried this same quiet approach into doing good. They got to know a woman who gave out free samples at Costco. The woman needed extensive dental work but couldn't afford it. So, the Hirshsons offered to pay for her care.
"They spent thousands of dollars on her teeth," Nancy says. "They cared about doing good works, but very few people knew about it."
In their later years, Mary was diagnosed with Alzheimer's disease and Bob was diagnosed with Parkinson's disease. Nancy suggested they move into a care facility, but they chose to stay home. Mary lived until she was 94, with Bob her only caretaker; he died a year later at 86.
The couple didn't have children, and they chose to leave their estate to nonprofits supporting Parkinson's and Alzheimer's research, animal welfare and the arts.
"When it came to supporting Parkinson's, The Michael J. Fox Foundation was a no-brainer," Nancy says. "We looked at the charity rating websites and the Foundation was at the top."
As part of a match challenge for Giving Tuesday – the now-global movement that encourages people around the work to do good on a day of giving – the Hirshsons' generosity will go even further on November 29 by enabling other gifts to The Michael J. Fox Foundation to have double the impact. Every dollar raised on Giving Tuesday will be matched, up to $4 million. Learn more.
"It means so much knowing that Bob and Mary's gift might encourage others to give, and the donation will go twice as far," Nancy says. "My aunt and uncle wanted to make life better for others. With the Foundation's research efforts, this gift can make a huge difference and make life better for a lot of people."
There are many ways that you, like the Hirshsons, can make an impact on Parkinson's disease research. Contact Shirley Nagar at 212-509-1524 or plannedgiving@michaeljfox.org to learn how.