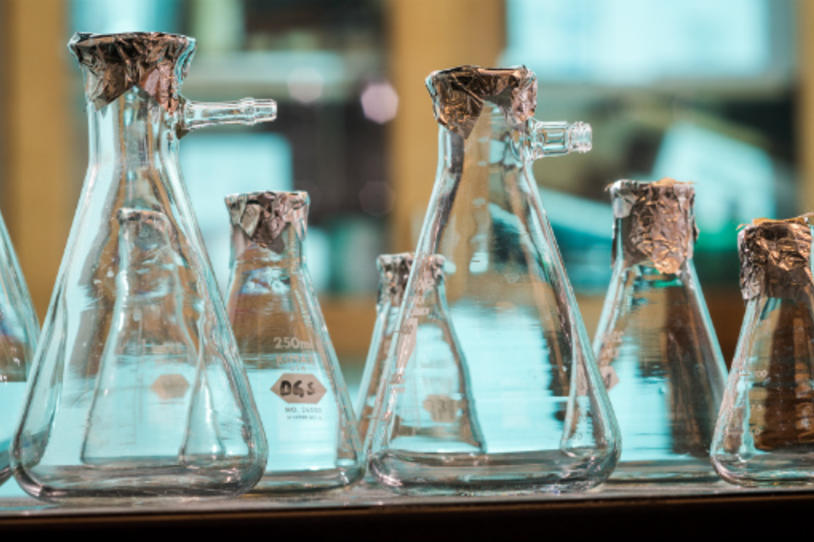 A team from the University College London Institute of Neurology, led by Thomas Foltynie, PhD, MD, MRCP, recently published results of an MJFF-funded Phase II trial evaluating the injectable diabetes drug exenatide in people with Parkinson's disease (PD). Early indications are that it could be beneficial in Parkinson's, but additional investigations are necessary to fully define its effect.
Taking a diabetes medication for Parkinson's may seem odd, but using a therapy developed for one condition to treat another (known as repurposing, or repositioning) gives researchers an alternative route for PD drug development. Diabetes medications are of particular interest as they may interrupt pathways that contribute to Parkinson's and therefore could possibly treat the underlying disease.
With so many steps to develop therapies, it can be hard to contextualize scientific findings. To help us break down what the recent exenatide research means for the Parkinson's community, we spoke with Dave Weiner, MD, chief medical officer at Lumos Pharma and MJFF scientific advisor.
MJFF: Thank you for your time, Dr. Weiner. Can you tell us about exenatide and explain why it is of interest in Parkinson's disease?
Dave Weiner, MD (DW): Exenatide belongs to a class of drugs, called glucagon-like peptide-1 (GLP-1) agonists, which are used to treat type 2 diabetes. It stimulates insulin release from the pancreas by binding to the GLP-1 receptor. These same receptors also are found in the brain. Pre-clinical research on exenatide showed it is effective in protecting against Parkinson's and slowing the progression of disease in laboratory models. An initial clinical trial in 20 people with Parkinson's who were given exenatide injections twice daily for 12 months showed improvements in motor and cognitive symptoms. These benefits appeared to persist even a year after the drug was stopped. However, all of the patients knew they were taking exenatide and there was no placebo control group. Despite these caveats, these findings motivated investigators to understand if exenatide could truly benefit people with Parkinson's disease.
MJFF: Could you explain the design and goals of the recent exenatide trial?
DW: The trial was conducted at a single site and included 60 participants who had Parkinson's disease for an average of six years. Half of them were randomly assigned to inject exenatide once a week for 48 weeks; the other half injected a placebo. Unlike the earlier trial, neither the participants nor the researchers knew who was taking the drug or the placebo. Investigators evaluated each person's motor symptoms at regular intervals throughout the study. At 48 weeks, both the study drug and placebo were stopped and everyone was monitored for another 12 weeks.
The goals of the study were to evaluate safety and whether exenatide had an effect on motor symptoms of people with Parkinson's.
MJFF: What were the results of the study?
DW: As with the previous trial, the Phase II trial demonstrated, in a relatively small number of participants, that exenatide appears to be safe in people with Parkinson's disease. Mild weight loss was more common in PD patients who took exenatide, but severe weight loss, which can occur in diabetes patients on this drug, was not seen. Other side effects, such as injection site reactions and gastrointestinal symptoms (e.g., appetite loss, nausea and abdominal pain) occurred equally in all trial participants.
Compared to patients on placebo, those on exenatide showed a mild improvement in their motor symptoms. However, as the magnitude of this effect was relatively modest, it remains unclear whether it might represent a symptomatic (temporary easing of motor symptoms, as currently available therapies can do) or disease-modifying (slowing of disease progression) benefit.
The trial was intended to give initial insights into exenatide's potential benefit; it was not designed to be large enough or long enough to conclusively evaluate this. As is sometimes the nature of smaller Phase II trials, the placebo and exenatide groups differed with regard to age, PD severity and medication regimens. In this scenario, it can be difficult to decipher if these factors impacted results. And, the fairly short trial length means that patients were not followed long enough to answer the question of whether potential benefit was due to easing of symptoms or changing disease course. Generally, this would require at least a few years of monitoring.
MJFF: What do the results of this trial mean for people living with Parkinson's disease?
DW: The trial results are intriguing, but the data is not sufficiently robust to point to a clear benefit for exenatide in PD. Definitively evaluating exenatide's safety and efficacy in Parkinson's would require a larger, well-designed multicenter trial. The mechanism of exenatide and similar drugs (i.e., GLP-1 agonists, such as liraglutide and lixisenatide), as well as previous supportive evidence, make them interesting therapeutic targets in Parkinson's. Until more is known about their potential role in PD, though, patients are cautioned not to add them to their Parkinson's regimens.
Download our free guide to learn more about drug repurposing for Parkinson's disease.
Sign up for Fox Trial Finder to be matched with recruiting Parkinson's clinical trials.