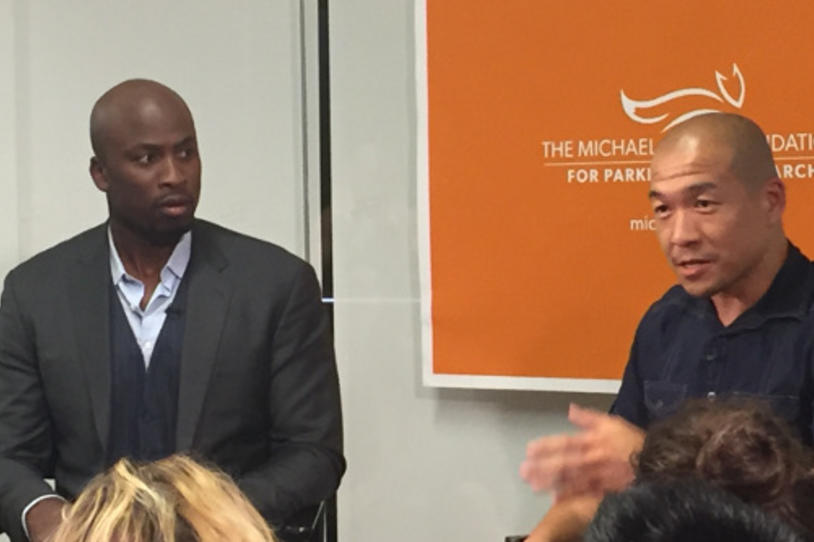 Today The Michael J. Fox Foundation (MJFF) hosted a special Facebook LIVE event featuring an interactive conversation with Team Fox all-star Jimmy Choi and Akbar Gbajabiamila, host of NBC's Emmy-nominated American Ninja Warrior. On an episode that aired July 3, Jimmy inspired audiences worldwide when he ran the obstacle course and discussed his journey after being diagnosed with Parkinson's disease (PD) at age 27. 
During their live broadcast, Jimmy and Akbar discussed how exercise can be a critical part of living well with Parkinson's, the role family plays as symptoms change and taking a first step toward involvement with the PD community.   
If you're looking for more on the topics discussed, check out these resources:
Ask the MD: Parkinson's and Exercise: In this blog and video, Rachel Dolhun, MD, shares the benefits of physical activity for people with Parkinson's, how to stick with an exercise regimen and what the latest research says about exercise and PD.
Team Fox Athletics: The grassroots fundraising arm of the Foundation offers opportunities to set a fitness goal of any type and join a community of people dedicated to accelerating Parkinson's research. Take part in any of the athletic events listed or create your own challenge to help raise critical funds -- 100 percent of all Team Fox proceeds go directly to MJFF's mission to speed a cure.
Parkinson's 360: If you or a loved one have recently received a diagnosis of Parkinson's or have been living with PD for many years, this multimedia toolkit offers honest and relatable guidance on navigating the disease and its motor and non-motor symptoms. A downloadable book, online resources on topics such as diet and medication, and short, personal films (including one featuring Jimmy) can help patients and families chart their best course. 
And if you missed the conversation, you can watch it here: