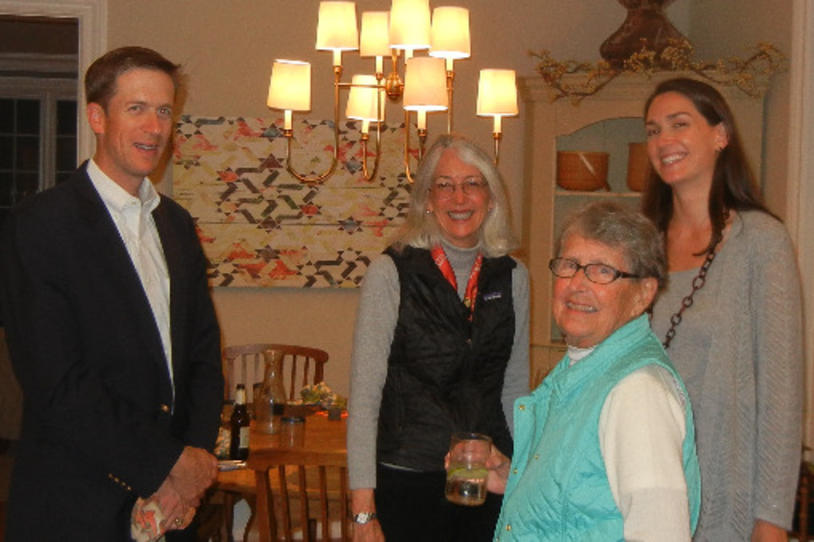 On September 26, I hosted a premiere party for "The Michael J. Fox Show" at my home in Wilmington, Delaware. Just over 35 attendees joined me to witness Michael's return to sitcom television 13 years after his retirement from "Spin City," and to laugh at the adventures and misadventures of the Henry family.
I wasn't alone in throwing a party like this — 2,267 people in 24 countries brought their families and friends together for the premiere. It was all part of the kickoff of the Foundation's think/able project celebrating the power of optimism to help all of us overcome challenges and achieve our biggest goals.
The weekend before the premiere was my own Team Fox event, the 6th annual Delaware Pancakes for Parkinson's. (One of MJFF's most popular community fundraisers, Pancakes for Parkinson's is a signature Team Fox event that got its start at the University of Virginia in 2004.) As always, the hard work of the fabulous Delaware Pancakes for Parkinson's Committee really paid off — we had a record number of Griddle Teams, drew in 1,000 flapjack-scarfing guests, and raised nearly $100,000 to speed a cure. I love this event, which has grown to be the biggest awareness builder for PD in our state. I look forward to it all year long and I'm constantly scheming about how we can make it even more far-reaching.
But something about the intimacy of the premiere party stuck with me in a different way. While many who came didn't know each other, or know that they shared a connection to Parkinson's, meaningful connections were taking place all night. One guest, recently diagnosed through a second opinion from a movement disorders specialist, whispered to me, "Will there be some other PD patients here tonight?" I began introducing her to a few of the many other patients already in the room. Watching her connect with them, I could see her relief that she not only wasn't alone with her Parkinson's — but in fact was becoming part of a new and welcoming community. The feeling was reinforced knowing that our party was just one dot on a map with literally thousands of other dots.
Thursday night reminded me how important moments like this can be, and what Michael's show means for the PD community. These are opportunities for Parkinson's patients and their loved ones to come together, to feel seen, heard and understood, recognizing their daily experiences in Mike Henry's life. You could feel the kinship, and knowing laughter echoed through the room. And everyone knew exactly what that "rolling chair moment" meant.
Editor's note: To see a variety of images from Debi's fantastic Pancakes event, click below to view our compiled photo gallery! Inspired to host your own event? Sign up to host a Pancakes for Parkinson's event or viewing party for 'The Micahel J. Fox Show' today!