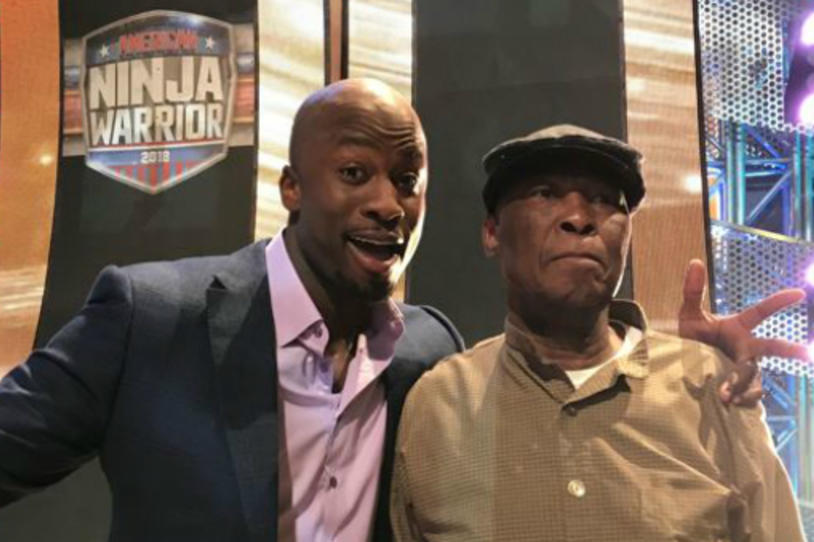 "The producers didn't tell me and then boom, there's Michael J. Fox. I got chills and then I got teary-eyed," recalls "American Ninja Warrior" (ANW) Host Akbar Gbajabiamila.
It was July 2017 and Jimmy Choi was preparing to take on the ANW obstacle course on national television. The taped message of support from Michael J. Fox was a surprise meant to motivate Jimmy, who has Parkinson's disease (PD) and was competing on behalf of Team Fox. But in that moment, Michael's encouragement reverberated to millions watching around the world, including Akbar. Jimmy's run prompted an equally visceral response from the former NFL player whose family is affected by PD, "Parkinson's shut my father down. To see that it didn't shut down Jimmy Choi, that's what made me want to call my dad and say, 'You've got to see this guy.' Just knowing Jimmy gives my father and anybody else like him some sort of hope, inspiration," said Akbar.
Flash forward to a year later, on the heels of Jimmy's second run on "American Ninja Warrior," Akbar, now a member of The Michael J. Fox Foundation Board of Directors, announced today that he will host his first Team Fox event, "Parkour 4 Parkinson's", setting an incredible $350,000 fundraising goal.
Hosted this August at DojoBoom, a trampoline gym in Los Angeles, "Parkour 4 Parkinson's" is a family-friendly event where everyone gets the chance to be a Ninja Warrior on a themed obstacle course. Top Ninja Warrior athletes will join the event and NFL teams have donated premier packages to the virtual auction. "Family is big to me and Ninja Warrior is big to me. This is something that everybody can do together to have fun and support a good cause," says the father of four.
In just a year, Akbar has been involved in a range of initiatives at the Foundation -- most recently, participating in a webinar on exercise in Parkinson's. But, like many after a loved one is diagnosed with Parkinson's, Akbar was initially in denial. "It took me many years to come to grips with my father's diagnosis. I've always thought my dad was indestructible, so learning his diagnosis shocked my entire family. I didn't learn more about the disease until it actually started to progress," he says.
Today, Akbar recognizes his outlook on his father's disease has shifted. "Knowing that there are people out there like the Foundation trying to find a cure, makes you more optimistic," says Akbar. He likened it to playing the lottery: "It's that 10 minutes after you purchase a ticket -- of dreaming -- until you come back to reality. But as far as finding a cure, the 10 minutes doesn't die out. I really do think something's going to happen."
In the Los Angeles area this summer? Buy tickets to "Parkour 4 Parkinson's" at TeamFox.org/Akbar.