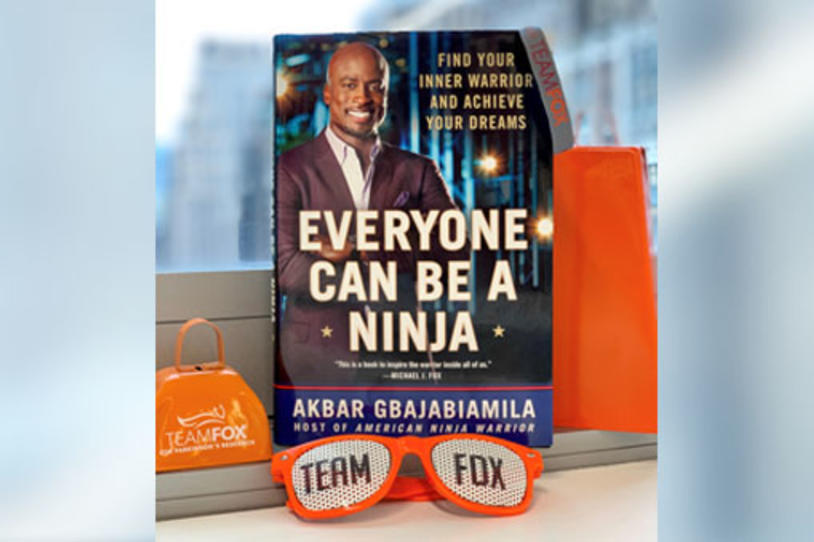 Akbar Gbajabiamila is widely recognized as the magnetic host of NBC's "American Ninja Warrior" competition, but did you know that he's also an accomplished author?
Learn more about Akbar, his family's journey with Parkinson's, how he was first introduced to The Michael J. Fox Foundation through Team Fox athlete Jimmy Choi, and how he has achieved his biggest life goals in his new memoir, "Everyone Can Be a Ninja: Find Your Inner Warrior and Achieve Your Dreams."
In his debut book, Akbar recounts his father Mustapha's diagnosis with Parkinson's disease in 2000 and how he initially labeled it as an "unfortunate fact of life." He resigned himself to watching his father progress from the sidelines, with little he imagined he could do to help. Today, after joining the Foundation's Board of Directors and hosting his first Team Fox fundraiser, Akbar says: "I have found new energy unlike any I have ever experienced being part of the fight for Parkinson's patients."
From cover to cover, "Everyone Can Be a Ninja" is filled with sage advice and tools on how to tackle obstacles and to keep pushing to achieve your dreams. Here are just a few words of wisdom Akbar shares:
"The 'university of adversity' is one of the best experiences in life."
"You don't need a platform to make a difference."
"Impossible is just an opinion, and opinions mean nothing."
"...look up, stand up, and don't ever give up."
"We don't need to worry about what's next, because what's in front of us is hard enough."
Inspired to take your first step to make a difference? Learn more about how you can join Team Fox, our grassroots fundraising community, to help us bring an end to Parkinson's.