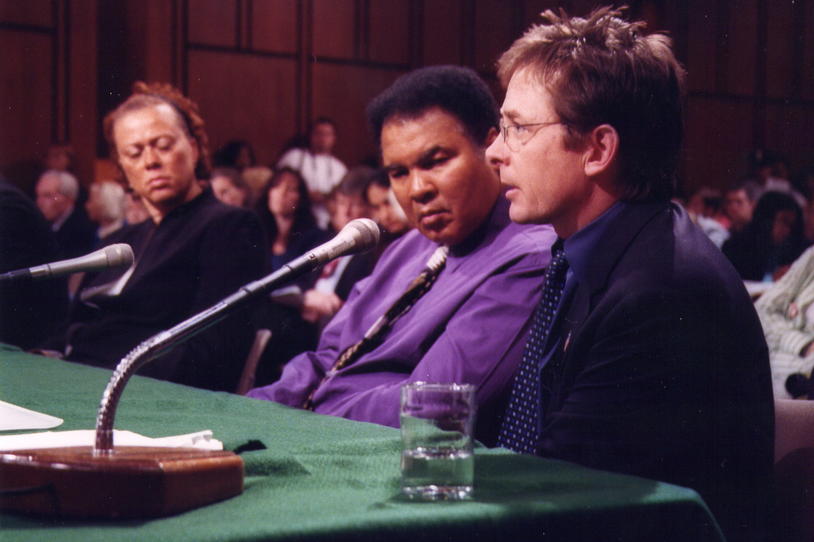 "Ali, the G-O-A-T. A giant, an inspiration, a man of peace, a warrior for the cure. Thank you."
Our Founder, Michael J. Fox, wrote these words as he described the lasting legacy of boxing legend, humanitarian and Parkinson's advocate Muhammad Ali has had not only on him, but the worldwide community including those living with Parkinson's.
Today, on the fifth anniversary of Ali's passing, The Michael J. Fox Foundation (MJFF) joins millions around the world to reflect on his iconic presence that continues to inspire community members globally. Here's a look back at a CNN op-ed written by Michael J. Fox and MJFF's executive vice president of research strategy (formerly MJFF CEO) Todd Sherer, PhD, on how to honor Ali's memory:
"Impossible is not a declaration. It's a dare," Ali famously said. Curing Parkinson's disease once seemed impossible. But momentum is at last on our side. We believe without fail that cures are within reach if we dare to do more, not less. Muhammad Ali showed us what it means to have the heart of a champion. Now is our chance to honor him by finishing the fight he could not.
The Foundation is immeasurably grateful for Muhammad Ali's activism and the legacy that continues to inspire us all. Read the Foundation's 2016 tribute here. And, community members are encouraged to honor Ali by visiting the Muhammad Ali Center online, which has a 10-day festival planned to celebrate his life and inspire future generations.