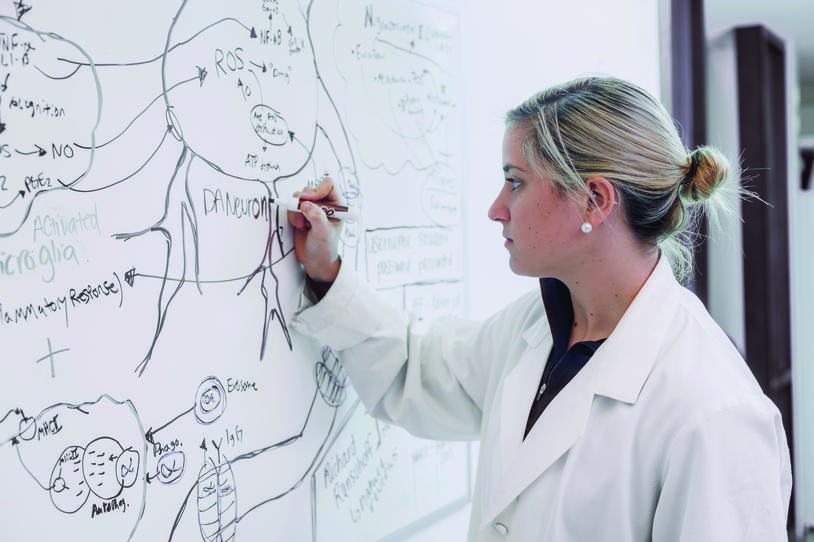 The following story appeared in our Spring/Summer 2020 edition  of The Fox Focus on Parkinson's newsletter. For this story and more, download the full edition.
Genetics has cracked open entirely new avenues of exploration and discovery toward next-generation treatments with potential to slow or stop the progression of Parkinson's disease — something no currently available therapy can do. Today, several potential treatments to slow or stop disease progression are being tested in people with and without genetic mutations. We expect to see some of these results in the next 18 to 24 months. The Michael J. Fox Foundation (MJFF) is tracking the progress surrounding therapies in our priority programs: alpha-synuclein, LRRK and GBA.
Alpha-synuclien
One of our most promising targets, this protein clumps in brain cells of nearly everyone with Parkinson's. Today, there are now 13 therapies targeting alpha-synuclein in clinical trials, including vaccines, antibodies and traditional small molecule drugs (e.g., drugs in pill form). MODAG Neuroscience Solutions' small molecule anle-138b began Phase I testing in December 2019. Affiris, the company behind a vaccine approach called Affitope PD01A, announced plans to begin Phase II testing later in 2020. Both programs received funding from MJFF. Read more about our alpha-synuclein initiatives.
LRRK2 and GBA
Therapies for two genetic targets — LRRK2 and GBA — are making strides. Denali Therapeutics has two small molecule LRRK2 inhibitors in clinical testing. Biogen has also started its trial of an antisense therapy for LRRK2, which is a unique gene therapy approach. Meanwhile, there are now five therapies in trials targeting GBA, using small molecule and gene therapy approaches.
Emerging Targets
In addition to these established targets, many emerging targets have also reached clinical trials. This progress is the result of MJFF's efforts to translate new findings about the causes of Parkinson's into therapies to treat it, as quickly as we possibly can. Among these are six therapies focused on inflammation, which has been shown to contribute to cell death in the brain, and three being tested against mitochondrial impairment, which is a failure of our brain's energy system.
MJFF is hopeful that today's diverse and rapidly advancing pipeline of Parkinson's therapeutics will become tomorrow's cures.