At The Michael J. Fox Foundation (MJFF), our best barometer of progress in addressing challenges faced by those with Parkinson's disease has always been new drug approvals. Last week, Kynmobi from Sunovion Pharmaceuticals became the 16th treatment for Parkinson's approved since 2014.
MJFF funded early-stage development of Kynmobi in 2012 and 2014. It's the second MJFF-enabled therapy to receive regulatory approval. The first, Acorda's Inbrija, was approved in 2018. Kynmobi is a sublingual form of apomorphine approved to treat "off" time, when symptoms return between medication doses. And it is among several recent FDA approvals of Parkinson's therapies (see Figure 1).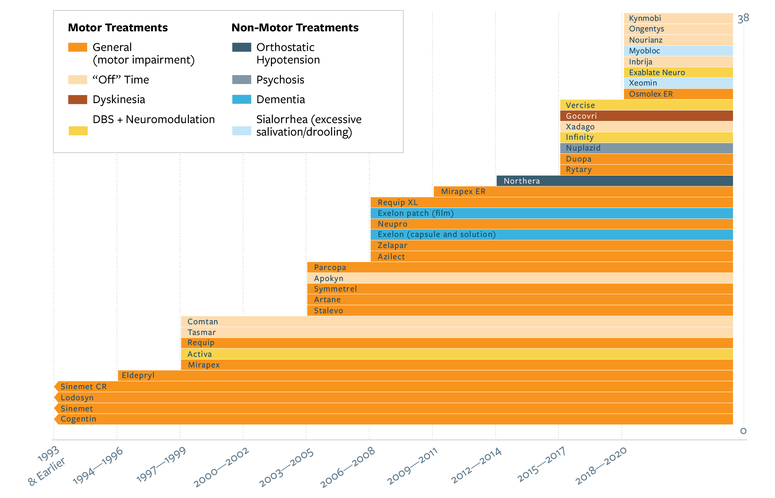 These new therapies offer different options for addressing not only common movement symptoms — which increases the odds that people will find one that works for them — but also options for symptoms that previously had none. In this, we are moving closer to treating the whole disease, both motor and non-motor aspects. MJFF is supporting the effort to develop effective treatments for more symptoms through recent funding programs, which focused on new therapeutic approaches for non-motor symptoms such as cognitive function, sleep issues, and pain.
We are also getting closer to therapies that can slow or stop the progression of Parkinson's. The pipeline of therapeutics in development is robust and growing, with diverse targets such as alpha-synuclein, GBA, LRRK2, and inflammation, and approaches ranging from traditional small molecules to gene therapies, antibodies to antisense oligonucleotides. We recently offered funding for target not currently represented in the clinical pipeline to support this progress.
MJFF's research agenda is focused on accelerating Parkinson's therapeutic development and diversifying the types of therapies in development. Diversity comes in many forms — including treatments for motor and non-motor symptoms and different stages of disease as well as the number of novel targets represented, and the therapeutic approaches being pursued. Advancing the therapeutic pipeline also requires that we address broad challenges, such as trial recruitment and biomarker development, and MJFF works with the field on these issues too.
Today, we take a moment to celebrate the latest success with the Parkinson's community. But we know there is more to do, and we remain focused on the future.