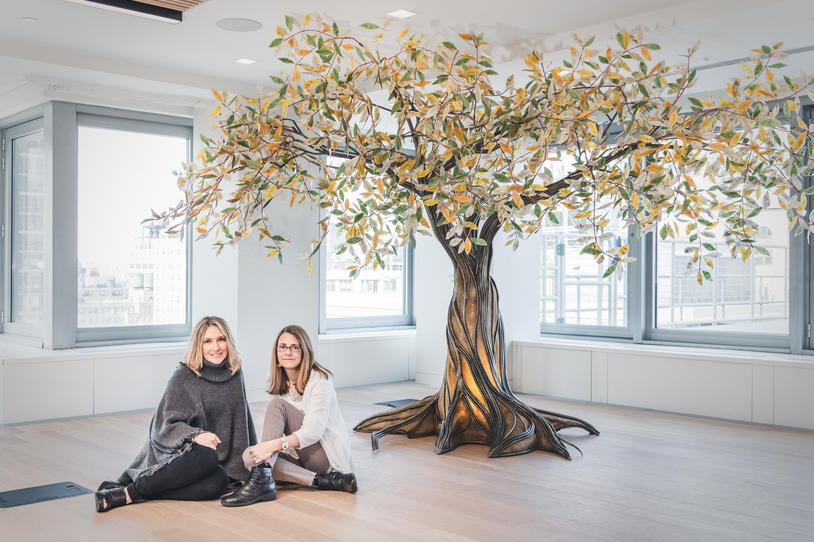 What started as a seed of an idea by Patient Council member, activist and artist Hadley Ferguson and fellow artist Carolyn Maier has bloomed into a permanent art installation at The Michael J. Fox Foundation (MJFF) offices.
The Tree of Resilience is inspired by the artists' personal journeys with Parkinson's disease (PD) -- Ferguson lives with multiple system atrophy (MSA-P), an atypical Parkinsonism, and Maier's close friend lived with PD. The 7-foot tall tree's sculptured steel trunk stands strong and represents the resilience of the PD community. Constructed with wire and mesh, the branches hold leaves which each house a printed quote from someone with or who has been affected by PD.
The Tree had its 2016 premier at the Montana Museum of Art and Culture and later appeared at the World Parkinson's Congress in Portland, Oregon. Today, visitors from across the Parkinson's ecosystem including people with Parkinson's and their loved ones, researchers, industry partners, funders and more will have an opportunity to view this display and become inspired by the resilience of the Parkinson's community when they visit the MJFF offices.
A plaque acknowledging the gift of the tree from the Silver Foundation and MJFF Patient Council sits next to the tree in recognition of the generous support and efforts made by many to plant the Tree in its new home.
Read more about the "Tree of Resilience" and its journey to the MJFF offices in a recent story from the Missoulian.