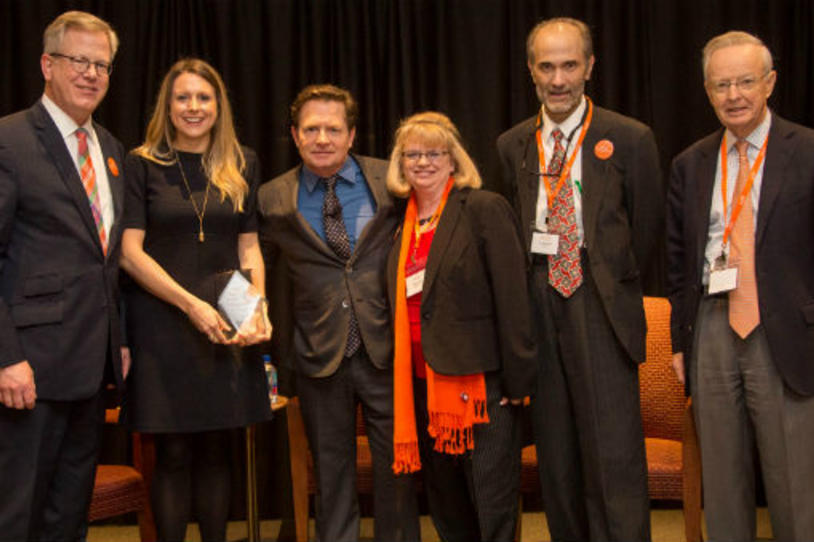 Last month, The Michael J. Fox Foundation presented the 2017 Parkinson's Advocacy Awards to five individuals. The awards shine a spotlight on efforts to further policies that benefit people with Parkinson's, their families and care partners. During the ceremony, which took place at the Parkinson's Policy Forum, advocates and public figures were recognized for their service to the Parkinson's community. The 2017 award winners are highlighted below.
Social Media Advocacy Award: Mary Killian, Kentucky
Recognizes an advocate who furthers Parkinson's policy by harnessing the power of social media.
Mary Killian frequently uses social media, such as Facebook Live and Twitter, to raise Parkinson's disease (PD) awareness and engage her community in advocacy work. She often makes her voice heard by emailing her elected officials about bills impacting people with PD. She also has attended over 10 state and local events since June 2016 in her capacity as a Parkinson's advocate.
Year-round Advocacy Award: E. Bruce McEvoy, Florida
Presented to an individual who exhibits exemplary advocacy efforts throughout the year.
A long-time Parkinson's Policy Forum attendee, Bruce McEvoy recognizes that advocacy takes place 365 days a year. As such, he meets with and reaches out to his elected officials regularly, both in Washington D.C. and at home in Florida. Bruce also is a local leader in his state, providing education and support to members of his community.
Milly Kondracke Award for Outstanding Advocacy (Advocate of the Year): Ron Dover, Kansas
Awarded to an advocate who embodies the incredible strength of spirit and commitment to advocacy that the late Milly Kondracke demonstrated every day. Throughout her life, Milly Kondracke advocated for increased federal funding for Parkinson's research. On behalf of millions of advocates across the country, she was the public face of PD on Capitol Hill. She humanized Parkinson's and educated lawmakers on the disease. Milly was diagnosed with PD in 1987 and passed away of complications from the disease in 2004.
Ron has built strong relationships with his Congress members that are critical to raising PD awareness and advancing policies in support of the Parkinson's community. During the 2016 August congressional recess he met with his U.S. senators and representative when they were home in Kansas. His representative, Kevin Yoder, who plays an important role in determining federal investments in biomedical research, has mentioned Ron on his Facebook page and in his constituent newsletter.
Morris K. Udall Award for Public Service: Senator Johnny Isakson of Georgia and Robin Elliott, CEO emeritus of the Parkinson's Disease Foundation
Given to individuals who have made important contributions to public policy with humor, grace and dignity, in the spirit of the late Morris "Mo" K. Udall. Mo Udall served in the House of Representatives for 30 years and was a candidate for the Democratic presidential nomination in 1976. During his distinguished career, he infused American politics with his singular style of humor, grace and dignity. Many of today's leaders -- both Democrats and Republicans -- have cited Mo as an inspiration and role model. He was diagnosed with Parkinson's in 1980 and died of complications from the disease in 1998.
A long-time member of the Congressional Caucus on Parkinson's Disease, Senator Johnny Isakson announced his own Parkinson's diagnosis in June 2015. As co-chair of the Caucus, Senator Isakson works to improve the lives of people living with PD and further new treatments. He is a champion of increased federal funding for Parkinson's disease research. (Learn more about the Caucus, then ask your elected official to join.)
Robin Elliott is a co-founder of the World Parkinson Congress and CEO emeritus of the Parkinson's Disease Foundation. He oversaw the organization's merger with the National Parkinson Foundation in 2016. A leader, convener and life-long advocate, Robin's dedication to the Parkinson's community, as well as the search for better treatments and a cure, serves as an inspiration to many.
Interested in advocating? Watch expert panel discussions on policies impacting the Parkinson's community. Then contact your lawmakers to voice your opinions on these issues.
Read an interview with Michael J. Fox about Parkinson's community policy priorities.