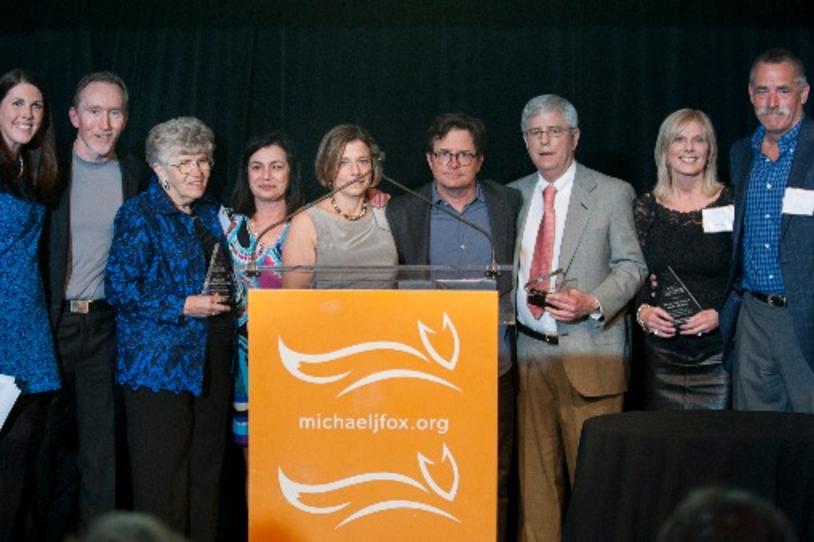 On Friday, April 4, over 400 of Team Fox's top fundraisers from 2013 gathered in New York City for the 2014 MVP Awards Dinner. With members arriving  from all parts of the United States, the awards dinner was an exciting reunion for many and a cherished opportunity for others to connect with peers and mentors. 
During the evening's program, the top ten fundraising events in 2013 were recognized for their outstanding fundraising achievements. Pictured left, Michael J. Fox and Sheila Kelly, Vice President of Development at The Michael J. Fox Foundation, stand alongside representatives from the top four events, each of which surpassed the $200,000 mark in 2013. Congratulations again to: James Little, Tips for Parkinson's, the New England Parkinson's Ride and Danville D'Elegance.
Many thanks to all who were able to join, and to all of our Team Fox members whose contributed to helping Team Fox raise over $5.9 million in 2013. 
For those who were in attendance, we're excited to share our image gallery with you. Simply click this link and enter your email address. Once you do so, you will have access to all the photos as well as the ability to download them for your personal enjoyment! 
 For all others, take a look at these momentous snapshots from the evening: