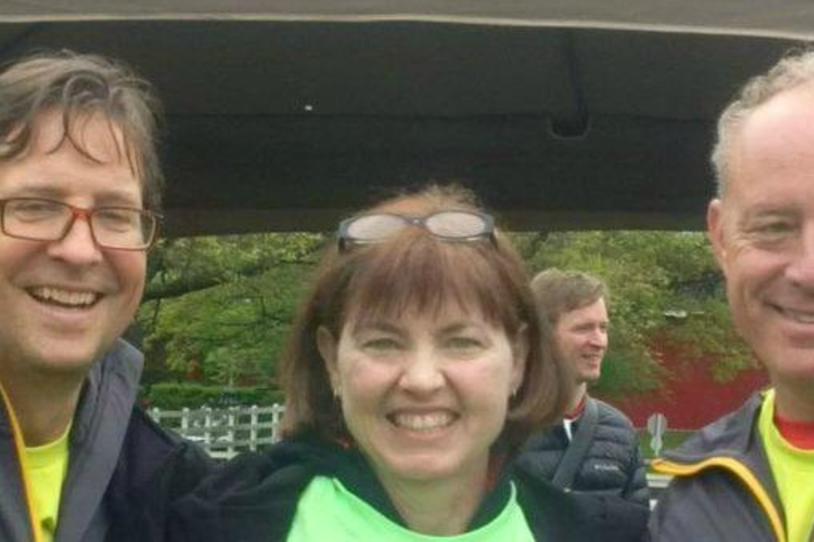 Sue Thompson is a physical education teacher, but last summer she took on the endurance challenge of a lifetime. In 2016, she, along with two other people living with Parkinson's disease (PD), walked 500 miles in 45 days from the Bronx to Toronto to demonstrate what all people with the disease can achieve. And this October, she plans to add another 26.2 to help speed a cure.
Sue, 51, was diagnosed with PD three years ago. She knows that she is not who many picture when they hear the word "Parkinson's." To help change people's perceptions of the disease, she joined fellow Toronto-ian Harry McMurtry's 500 Miles for Parkinson's. The endeavor raised close to $1 million for organizations driving PD research, including the Foundation. It also helped forge connections within the PD community: "I'm still in contact with people who came out and told us their stories of Parkinson's and their family just because they saw us on the side of the road."
This year, Sue wanted to keep the journey going while staying local. She decided to run the Toronto Waterfront Marathon on Sunday, October 22. She is leading a Team Fox team of ten runners partaking in either the marathon, half marathon or 5K. Their goal is to total – or surpass – 500 miles cooperatively, while educating people along the route about PD and raising funds to help the Foundation accelerate a cure.
It will be Thompson's first marathon. "I'm not putting any pressure on myself around time," she says. "I'm going to run as much as I can, and if I have to walk it at the end, I'll walk it, but I'm going to get to the finish line."
Learn more about how you can join Sue's Team Fox: 500 Miles for Parkinson's group in Toronto or donate to fuel their run.