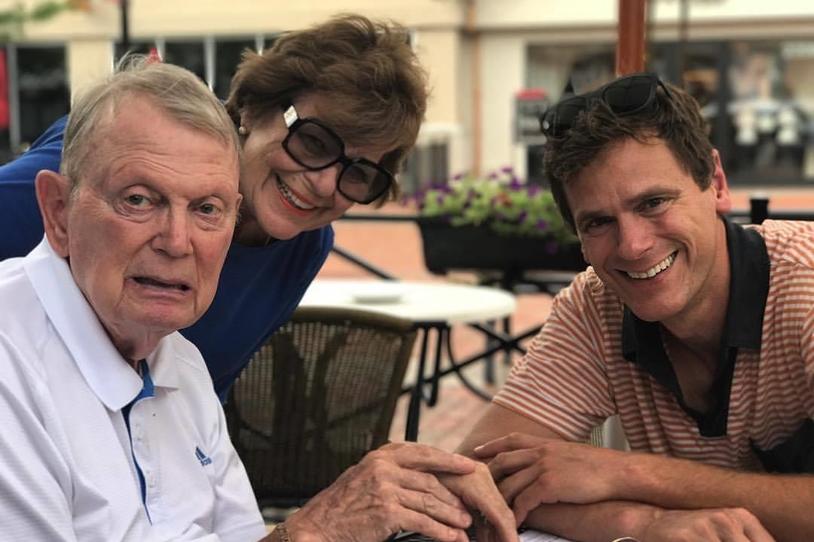 Editor's Note: Chris Solomon is a contributing editor at Outside and Runner's World magazines, and a freelance journalist writing about everything from science to environmental issues and athlete profiles. His work can be seen in the New York Times Sunday Magazine, Scientific American, National Geographic, Men's Journal and others. His latest piece, "The Promise That Tested My Parents Until the End," was originally published in GQ Magazine in November 2020. Follow him on Twitter @Chrisasolomon.
I began to write this essay early in 2020, after what would be my last visit to my father, and right before COVID-19 swept the country. I wanted to understand what my mother had been going through, in caring for my father. I wanted to honor her dedication. My father always was a larger-than-life character to everyone around him — my mother forever in his shadow — and it troubled me, how, even at the end, my father was still the center of attention, albeit in a different way. I wanted to understand my mother's selflessness through the course of his decline. Over time, I saw that to understand this, I needed to understand better their love for one another. 
The response to the essay has been overwhelming. Many, many people reached out (to me and my mother) to say that my parents' story was their story, too, or their parents' story, or grandparents' story. And they shared those stories with me. Others said the essay finally pushed them to talk to their parents about uncomfortable topics such as end-of-life arrangements. Still others said that they simply picked up the phone and told their parents they loved them. The outpouring was incredibly heartwarming.
I should have known that my family's story is not isolated. There is a story behind every closed door. But in America, in particular, we still struggle to talk about difficult family topics. I hope, in a small way, this essay helps us do better.
The following is an excerpt from Chris Solomon's GQ Magazine essay article, "The Promise That Tested My Parents Until the End":
She is tired. She is tired of spending her days running errands. She is tired of the half-strangers always in her house these days, even as she sleeps. She is tired of being so tired. She is angry—angry that she is no longer his wife but has become his nursemaid. She is angry at how friends no longer visit him, as if his condition were contagious. She is angry that, had things been different, they would have spent their last really good years together, traveling—to see their grandchildren, to Venice, to all of their old haunts. Mostly, she is sad. She is sad that the bad times are all the time now. She misses affection. She misses talking with him. She misses their music.

When she stood before the altar at the base chapel in Italy so many years ago—my sisters and me still only a conversation between them—and she agreed in sickness and in health, I wonder how much she considered the pact she made. The joys of the life ahead must have been easy to imagine. They must have seemed endless. Could she have imagined the agonies? Not one of us knows what we will get when we offer our hand to another—whether a life of ease, or a life of pain, or a life of both. I wonder, had she known what these last years would give her, if she would have hesitated before that smiling, blue-eyed lieutenant. Or, was the bargain worth it, the many good times for the many bad ones?

She does not talk about these things. I know only that she keeps the Promise to him, a promise that feels as large as their lives together. Even as it drags her under.
Read the entire piece in GQ Magazine here.
Check out The Michael J. Fox Foundation's recent webinar "Calling all Care Partners: Managing Disease and Burnout in 2020," which offers practical tips and different perspectives from care partners on how to manage care and burnout in an unprecedented year. And access the Foundation's free downloadable guides on related topics, including You, Your Loved One and Parkinson's Disease.