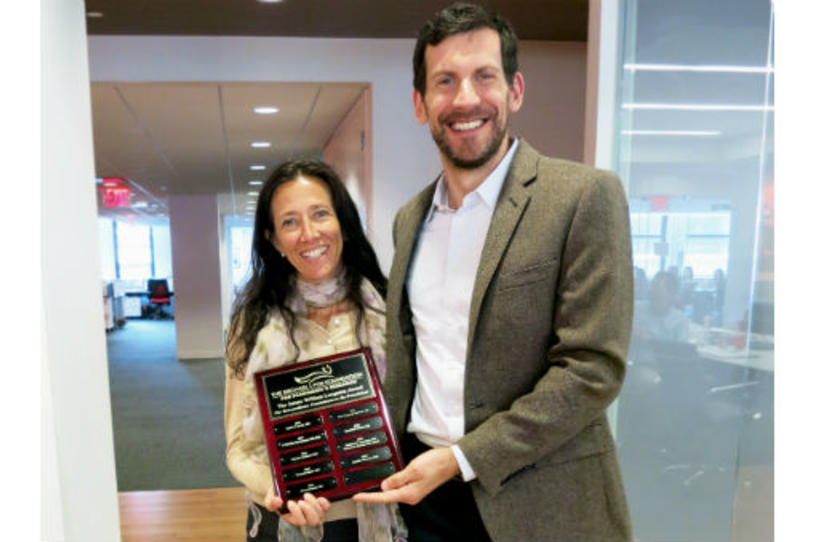 It takes a lot to cure a disease like Parkinson's: financial resources, collaboration and dedicated study volunteers, to name just a few. Coming up with the right strategies to accelerate research means also understanding the challenges we face. At The Michael J. Fox Foundation, we have built an internal research team to do this well, including scientific, medical and business-trained experts. But we can't work in a vacuum, which is why we also rely on a global network of advisors.
Each year, the research team honors a member of our Scientific Advisory Board (or SAB for short) with the James William Langston Award. The recognition comes with a small grant to support critical Parkinson's research as well as the gratitude of the Foundation's staff for the insight and advice provided in support of our mission to cure Parkinson's disease.
MJFF established the award in 2006 as a way to show our appreciation to the hard-working members of our SAB. Dr. Langston (Bill to many of us on staff) was a founding scientific advisor when the Foundation was first getting on its feet and worked tirelessly with MJFF staff in those early years to pull together world-leading experts in Parkinson's disease research and to coordinate our first funding initiatives. The Langston Award is a reflection of Bill's original spirit and commitment to the Foundation.
This year, we gave the award to Jennifer Johnston, PhD, for her help in guiding a number of recent MJFF strategic efforts. Dr. Johnston is currently president and founder of the biotech Annoah Discovery and was one of our first industry advisors. She has helped the Foundation shape a number of critical strategies to develop promising disease-modifying therapies.
Past winners of the Langston Award are:
Kalpana Merchant, PhD
Bernard Ravina, MD, MS
David Weiner, MD
Irene Hegeman Richard, MD
Erwan Bezard, PhD
Kenneth Marek, MD
Mark Cookson, PhD
J. Timothy Greenamyre, MD, PhD
Robert Burke, MD
As we honor a member of our SAB, it's important to note that MJFF seeks advice from a massive network of investigators around the globe: experts in specific research areas, current and past awardees, as well as industry representatives. Last year we welcomed more than 700 participants, including 130 from outside the US, to over 45 meetings to discuss results, challenges and opportunities in Parkinson's research. This balance of internal and external brainpower ensures that we are able to drive our mission with clear vision and understanding of the challenges ahead.
So, even though the Langston Award is one single and special way to show our appreciation for an individual advisor each year, we really give thanks to all of those who help MJFF maintain its strategic leadership. Without you, we would never reach our goal to stop Parkinson's disease.