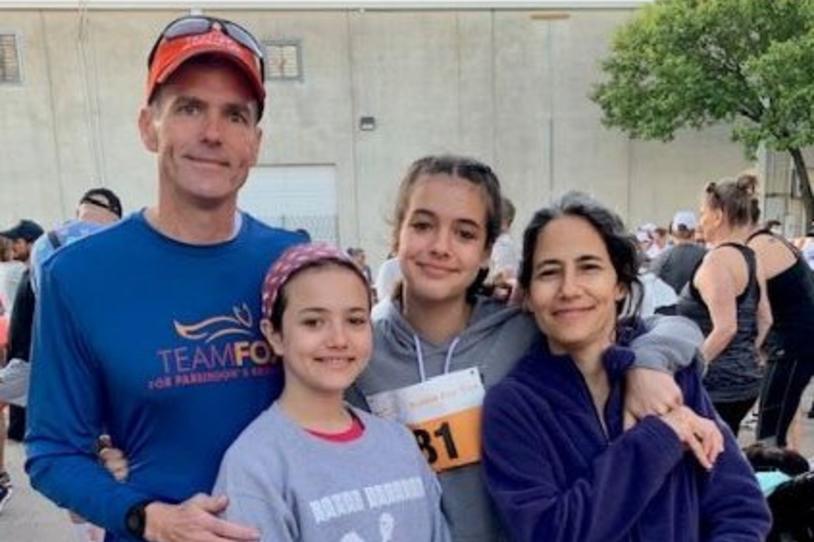 Editor's Note: Allan Cole is a professor in The Steve Hicks School of Social Work at The University of Texas at Austin and courtesy professor of psychiatry in the Dell Medical School. He is author or editor of 10 books on a range of topics related to bereavement, anxiety, and spirituality. Diagnosed with Parkinson's at the age of 48, he is currently writing a book on counseling people with Parkinson's disease, which will be published by Oxford University Press. Follow him on Twitter @PDWise.
"What worries me is that I think you are in the early stages of Parkinson's disease," my doctor said. It was October 26, 2016, when those 16 words changed my life.
At 48 years old, I had always been active and healthy. My wife Tracey and I were raising our two young daughters, then ages 10 and 8, and I had hit the sweet spot in my career as a university professor and administrator. Life was good. Then, within a few weeks' time, things changed. A slight tremor in my left index finger, a casual trip to the doctor, mostly to satisfy Tracey, and a DaTscan launched me into the status of a PWP, a person with Parkinson's, and into a new world. Worry, fear, secrecy, and loneliness ensued. Only Tracey knew about any of this and I had sworn her to secrecy.
Suffering in silence only added to the severity of my despair because I felt so alone. I was scared out of my mind about the future, painfully self-conscious about my physical appearance, which I assumed would soon reveal my condition, and I especially worried about whether I'd be able to work long enough to get my kids through college. Other concerns preoccupied me, too.
After 11 months of living this way, feeling as though the secret was destroying me and wanting to do something positive with Parkinson's, I disclosed my illness, first to family and friends, then to colleagues, and then to wider publics, including new friends in the Parkinson's community; and almost immediately, my life vastly improved.
Three and a half years later, life is still good; in fact, in certain ways, it's better than ever — more meaningful and closely connected with others' lives, more exciting and appreciated. Among the most helpful and meaningful experiences has been starting a blog, PD Wise, which turned one in April.
The idea for the blog came about when my friend, Chris Tracey, and I had dinner one evening. We met through our mutual involvement with The Michael J. Fox Foundation for Parkinson's Research. As we talked about some of the challenges of living with Parkinson's, reflecting on our own experiences, it became clear how powerful it could be to share personal stories and perspectives, and through this sharing to form stronger connections with others making a journey down the Parkinson's road. Hearing others' stories helps us feel less alone and more hopeful that life can still be good. PD Wise is one way to share these stories.
The following three blog posts will give you a sense of the types of stories you will find on PD Wise: Crafting a Parkinson's Story; On Tires and Tests: Doing What You Can Do; and On Losing Your Doctor. Occasionally, invited guests contribute, too. Expect the Unexpected: Music and Parkinson's is one such post.
I hope you will benefit from PD Wise, that you will tell others about it, and that you will subscribe. Send me a note at allan@pdwise.com and let me know what types of stories interest you. We can do so much more, for ourselves and for others, when we work together.
Watch a recent PBS documentary, "Empowered by Parkinson's," which features Allan and other members of The Michael J. Fox Foundation community.