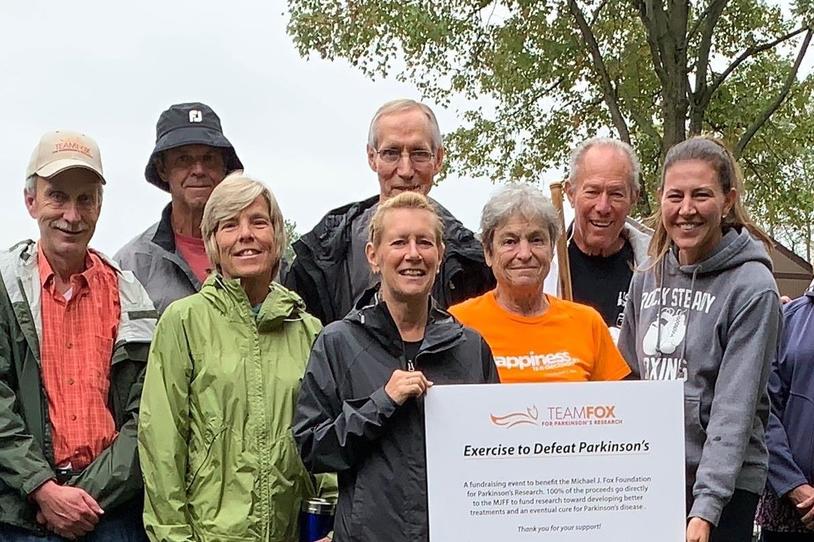 Like organizations worldwide, The Michael J. Fox Foundation has postponed all public events through end of the year in response to the evolving COVID-19 situation.
Since it was founded in 2006, our grassroots community continues to be a great source of support and inspiration. While we can't be together in person, we promise to share ways for you to engage with each other during this time. In addition, we've developed resources to help you stay on track toward your 2020 goals and navigate the current fundraising landscape:
And below, we're keeping a running list of opportunities to be together -- virtually!
Exercise to Defeat Parkinson's: You choose!
The idea originated in Pennsylvania, but this Team Fox event has always enabled participation from anywhere at any time. Get creative by selecting the type of exercise, the time and the place. Go for a walk, practice yoga in your living room, take dance lessons on YouTube or challenge your family to a push-up contest. The possibilities are endless. We are happy to announce that this year we have been sponsored by Marker & Crannell who generously made a donation in tribute to one of their clients, John K. Bertulis, who lost his battle with Parkinson's in November and to his amazing family.
Pushups 4 Parkinson's: You choose!
Do 10 pushups and share a video or pictures on social media using #my101010. Tag 10 friends to take the pushup challenge and give $10 today. All proceeds benefit Team Fox and other PD organizations. Get creative and have some fun with it!
The following events have already happened; but you can still support them and find additional inspiration for your own events:
Bags Bingo: 

Hosted by Team Sheakin' for a Cure, Bags Bingo is totally virtual! Purchase raffle tickets and pick your lucky number for a chance to win a designer bag every day during the month of October. All proceeds benefit Team Fox and critical PD research. Email kholden123@gmail.com for details.
Team Fox Tough Virtual Marathon Relay: 
Support efforts to raise awareness and funds for Parkinson's disease research by participating in one leg of the Team Fox Tough Virtual NYC Marathon Relay. The organizers have divided the marathon into five distances ranging from 2 km to 13.1 miles. Walkers, runners, individuals and teams are all invited to sign up and participate at their own pace!
UnCorking a Cure:

Join Team Fox and some of the world's top sommeliers for a 60-minute guided tasting including pairing suggestions, tasting notes, live Q&A, and an attempt at the world record for the largest virtual wine tasting! Order three wines to sip along and you'll automatically be registered for the event.
Strike Out Parkinson's

Strike out Parkinson's hosted their second annual Ricebird Alumni Baseball game and Ladybird Alumni Softball game on September 19 to benefit Team Fox. With socially distant games taking place in El Campo, Texas, supporters also took part in a virtual raffle and silent auction online.
13th Annual New England Parkinson's Ride
This year, the New England Parkinson's Ride set a goal to not only raise funds for research, but to have participants "cycling in sync" across the entire country and beyond.  On September 12, people from all 50 states, Canada, England, Ireland, Italy, New Zealand and Singapore took part with one common goal: ending Parkinson's disease.
Drive Toward a Cure, which hosts a variety of events and programs combining cars and community to support Parkinson's research pivoted to host a socially distant Summer Drive series. Between June 21 and September 3, participants logged miles in their cars and qualified to win prizes, all to benefit Team Fox.
Athletes all over joined forces from afar, creating teams and completing 120 miles collectively over three days in July.
11th Annual Pedaling 4 Parkinson's
The largest Team Fox event in Colorado, Pedaling 4 Parkinson's, turned their event into a month-long campaign to raise funds and awareness for research. Throughout the month of June, they challenged participants to collectively complete 25,000 miles.
8th Annual West Virginia Fox Trot 5K
For years, the West Virginia Fox Trot has built a dedicated community of runners, walkers, supporters and volunteers in Charleston. On March 21, the event organizers brought that community together online. The West Virginia Fox Trot transformed its 5K around downtown Charleston into a completely virtual experience open to everyone.
5 Live: World Record Awareness for Parkinson's Disease
On World Parkinson's Day, Team Fox members Jimmy Choi, Bill Bucklew, Eric Johnson and Peter Leech hosted a five-minute online workout to bring world record awareness to the disease. 
Once again Kickin' Parkinson's teamed up with the Crescent City Classic, an annual 10K based in New Orleans, Louisiana. This year, the Crescent City Classic made the move to go virtual on World Parkinson's Day. They proved it's possible to unite the community from afar and paved the way for other virtual races. 
5th Annual Outpace Parkinson's 5K
Jane and Jack Armistead rallied their community in Athens, Georgia and beyond to help outpace Parkinson's. Runners and walkers chose their own method of completing 3.1 miles and 1 mile, respectively, and reported their times.
11th Annual Plattsburgh Half Marathon
This longstanding Team Fox fundraiser made the move to go virtual on May 3. Runners submitted photos of their distance and time, and results were uploaded to the race website. All runners received a t-shirt and finishers medal for completing.
The SoCal Ride for Parkinson's team called on our community to get moving to support Parkinson's research. Participants ran, walked and cycled a distance of their choice.
Virtual Half Marathon for Parkinson's
Runners created their own course or hopped on a treadmill to complete a half marathon in support of Parkinson's research. 
If you don't already, follow us on Facebook, Instagram and Twitter, and stay tuned to our website for more updates, resources and stories from the community.
---