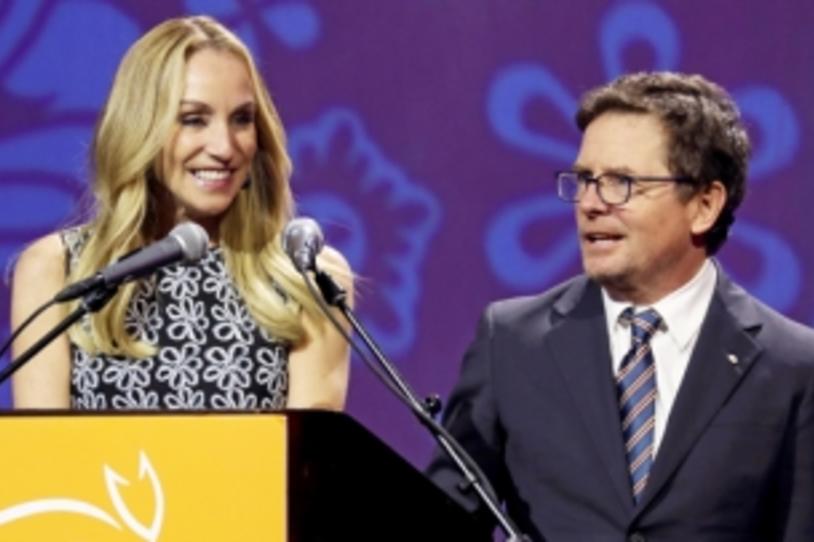 This year's host of The Michael J. Fox Foundation's (MJFF) annual "A Funny Thing Happened on the Way to Cure Parkinson's" gala, Denis Leary, put it best as he described the event on the red carpet: "I love this event. I love what it stands for. I love Michael."
Nearly 900 friends from near and wide gathered at the Hilton New York to celebrate raising $4.6 million for critical Parkinson's research. And as with every year, thanks to the MJFF Board of Directors, every penny of the millions raised will go directly to high-impact programs to bring an end to Parkinson's. To date, "Funny Thing" has raised nearly $80 million in total.
Guests of the #FoxGala were treated to a comical opening number from Denis Leary and standout, stand-up comedy from our star-studded lineup of Jim Gaffigan, John Mulaney and Michelle Buteau. Plus, iconic musician Steve Winwood brought the house to its feet with a few of his classic hits. And if that wasn't enough, Michael J. Fox and rock legend Joan Jett joined Steve on stage to close out the night with "Gimme Some Lovin'."
Long-time supporters of Michael and the Foundation came out for the evening including MJFF Board members Willie Geist and George Stephanopoulos, Katie Couric, Christopher Lloyd, Jennifer Grey, Clark Gregg and Susie Essman. View the gallery below to get an insider look. While on the red carpet, Willie spoke to his admiration for Michael:
"He walks the walk. There are a lot of opportunities when you're in the public eye or you have a platform to do things where you can put your name on it, or put your name on an invitation, or say I support that, but that's the end of it. He inspires me because he works at it. He is at the meetings, he is on the cutting edge of research talking to doctors, and getting the word out. He shows that the continued use of your celebrity or your platform can truly, truly make a difference in something like this as his Foundation has."
And in case you missed it, Michael and Tracy Pollan sat down with Entertainment Tonight for an exclusive interview about their marriage, navigating Parkinson's and the work of the Foundation. During the conversation, Michael discussed how he manages living with the disease:
"I'm really into acceptance, and acceptance means you resign to something. But you have to recognize it is what it is. Deal with it and move on. And when you do that, you can keep it in check -- it is what it is. Ninety-nine percent of the rest of my life is not Parkinson's, it's other stuff and that keeps me busy and I don't feel sorry for myself."
Watch the entire Entertainment Tonight segment to check out footage from the "Funny Thing" red carpet.
Tracy Pollan and Michael J. Fox welcome the audience

Actors Clark Gregg and Jennifer Grey pose with Michael and Tracy on the red carpet

Host Denis Leary warms up the crowd

Nearly 900 guests attended the 2018 gala

Comedian Michelle Buteau takes the stage

 Benefit Chairs Jim and Jeannie Gaffigan snap a selfie with comedian John Mulaney

Comedian Jim Gaffigan performs

Musical headliner Steve Winwood

Joan Jett and Michael close out the evening during the finale