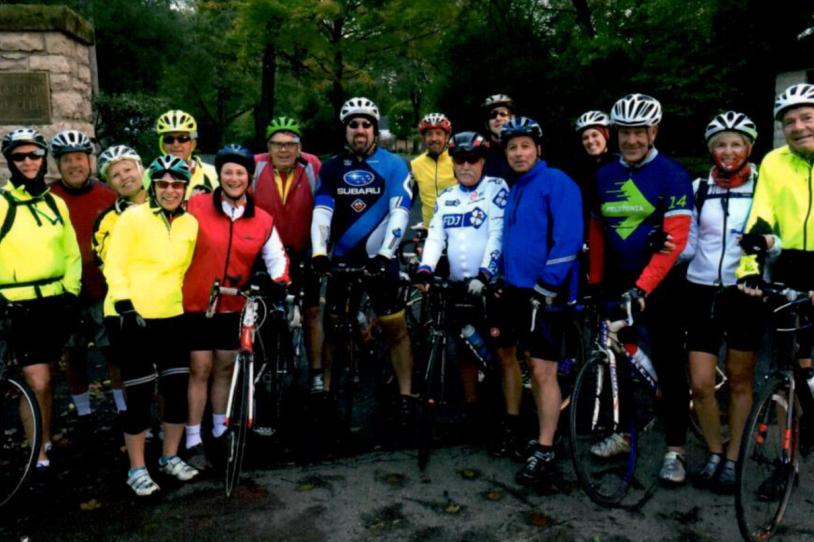 Due to the coronavirus pandemic, The Michael J. Fox Foundation's (MJFF) Tour de Fox Cycling Series has shifted gears but is still pedaling forward. On Saturday, August 29, cyclists located near the in-person events scheduled to take place in the Pacific Northwest, Wine Country and Atlanta are uniting with participants located all over the globe to take part in a unified virtual ride.
Since 2016, the Tour de Fox Series has gathered thousands of cyclists and supporters in California, British Columbia, South Carolina, Ohio, New Jersey, Texas and Georgia. Now, those that were unable to participate in a local event — due to availability or proximity — have an opportunity to join this incredible Tour de Fox community. In this four-part blog series, MJFF asked participants from local Tour communities and beyond about why they committed to the virtual Tour de Fox ride on August 29.
Next up, meet Andy Bell and Eddie Leventhal of Springfield, Ohio. Both are first-time Tour de Fox participants riding with Team Bell, captained by Eddie in honor of Andy who is living with Parkinson's disease. Andy and Eddie are also the top fundraisers on Team Bell, which has raised nearly $7,000 to date — with 100 percent going directly to the Foundation's high-impact research programs.
MJFF: How did you get involved in The Michael J. Fox Foundation's virtual Tour de Fox ride?
AB: Every weekend for many years, I have ridden with a group we call the Old Spokes due to our ages. Since I have PD, they established Team Bell to raise money to help find a cure for Parkinson's.
EL: I have been friends with Andy Bell for nearly 50 years and when I read about this upcoming annual event, I thought it would be a great opportunity to show solidarity with my good friend and easily raise some dollars for a great organization doing great work. Andy has been a great community supporter and advocate his entire life and it feels good to be supportive of him at this point in time.
MJFF: What strategies have you used to fundraise virtually?
AB: I sent emails to friends and my son posted about it on Facebook.
EL: A number of us had decided to become Team Bell for this event and registered as riders, and several of us have sent out fundraising requests to a wide circle of friends. The response so far has been great, and we plan on raising even more before we actually ride.
MJFF: What are your plans to complete the virtual ride?
AB: The Old Spokes will ride on or around August 29 in and around our community.
EL: We will develop a bike route and finalize a date in late August or early September when Team Bell will ride in support of Andy and the Tour de Fox. Our group has been doing a "birthday" ride for the last 12 to 13 years to celebrate my birthday and we may use that event as our ride. If so, we will ride 75 kilometers.
MJFF: How does Team Bell stay connected and support one another?
AB: We ride together most weekends to different locations (while following social distancing protocols) and are active in our community.
EL: The actual Team Bell riders have been riding together for many years. Every year our name, the Old Spokes, becomes truer and more meaningful.
MJFF: Any advice for others thinking about joining the virtual Tour de Fox ride?
AB: Raising money is relatively easy, especially if the donor knows someone who has had the disease.
EL: I would encourage other riders to think about organizing their own team and raising as many dollars as they can for a great cause, a great organization and unfortunately for a great need. Hopefully through a healthy activity like bike riding we can play a small part in improving people's lives. It doesn't get easier or better than that.
Next, read the first two blogs in our four-part series featuring Kathe Friel, representing our Tour de Fox Wine Country community, and a six-year Tour de Fox veteran from the Pacific Northwest, Len Grant.
There's still time to join Andy, Eddie and the entire Tour community on August 29. Click here to learn more and sign up for the virtual Tour de Fox ride today! If you have any questions, email us at tourdefox@michaeljfox.org.