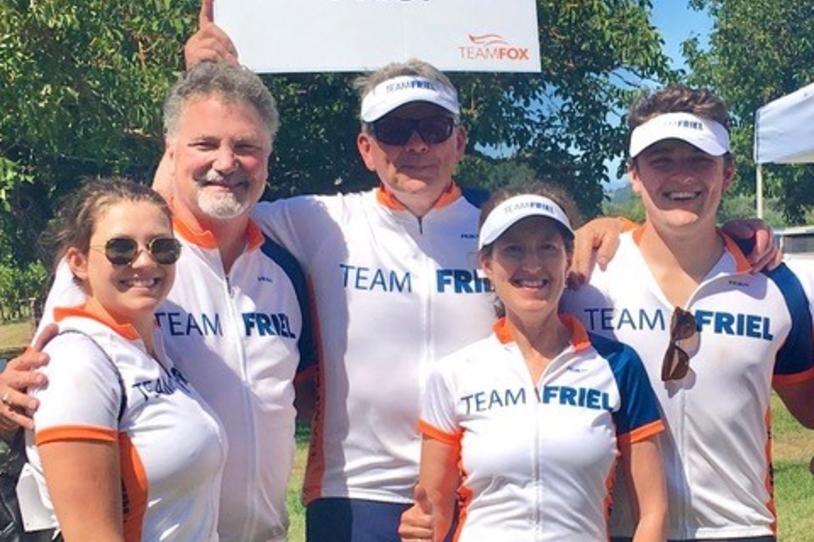 Due to the coronavirus pandemic, The Michael J. Fox Foundation's (MJFF) Tour de Fox Cycling Series has shifted gears but is still pedaling forward. On Saturday, August 29, cyclists located near the in-person events scheduled to take place in the Pacific Northwest, Wine Country and Atlanta are uniting with participants located all over the globe to take part in a unified virtual ride.
Since 2016, the Tour de Fox Series has gathered thousands of cyclists and supporters in California, British Columbia, South Carolina, Ohio, New Jersey, Texas and Georgia. Now, those that were unable to participate in a local event— due to availability or proximity — have an opportunity to join this incredible Tour de Fox community. In this four-part blog series, MJFF asked participants from local Tour communities and beyond about why they committed to the virtual Tour de Fox ride on August 29.
First up, meet Kathe Friel of Orinda, California. Since 2018, Kathe has participated in the Tour de Fox Wine Country ride as captain of Team Friel. Already Team Friel has raised over $15,000 this year, 100 percent of which goes directly to MJFF's high-impact research programs.
MJFF: Why did you get involved in the Tour de Fox Series?
KF: I first heard about The Michael J. Fox Foundation (MJFF) when I was diagnosed with Parkinson's disease (PD) three years ago. A friend introduced me to Steve Greenfeld who also has PD and has been involved with fundraising for the Foundation for several years. He told me it was the best thing he ever did after he was diagnosed. I knew I needed a community support system and was looking to connect with others like me who are active and want to do something positive about having Parkinson's disease. Being a long-time avid cyclist who enjoys Sonoma Valley wines, the Tour de Fox Wine Country ride felt like the perfect way for me to get involved!
MJFF: What do you enjoy most about the Tour de Fox Series?
KF: There are so many things I love about the Tour de Fox Wine Country ride. It is a great way to raise funds for a cure while cycling with family and friends in one of the most scenic valleys in the world. But what I enjoy most is the connection I feel with the PD community. As one of the top fundraisers, my husband and I got to attend a lunch at Kendall Jackson with other team members the day before the ride to learn about the research work the Foundation is doing. It is wonderful to meet others who know what it feels like to have PD and to share experiences. It is also inspiring to learn about new treatments in the pipeline as well as advancements in clinical trials made possible by the funds we raise for MJFF. Then, the day of the ride is just the best! The love and support I feel from the entire Tour de Fox community on that day gives me hope for a future without PD.
MJFF: How have you adapted your fundraising in this new virtual environment?
KF: Going virtual this year was initially disappointing. I was so looking forward to riding with all the other teams in Wine Country. I decided to approach it with an attitude of "don't let the fear of striking out keep you from playing the game." My family has been amazingly supportive of me in every Tour de Fox event and this year is no different. We all reached out to our Fox community by sending emails and messages through social media. We invited friends who we know enjoy cycling to ride with us and we already have a team of 15 riders. My kids are now working adults (27 and 23) and they have tapped into a new audience of young adults for $10-50 donations. These smaller donations can add up quickly! My daughter figured out that it was easier for many of her friends to donate through Venmo so she does the extra step of logging into the website and filling out the donation form for them. This method alone has raised over $3,000! She was also creative on Instagram telling her followers that if they donated, she would write them a personal Haiku. The donations came flooding in!
MJFF: What are your plans for the virtual ride?
KF: Team Friel has planned a beautiful route near my home in Orinda. It begins in the redwood trees of Canyon and ends with a challenging climb and a view of the Bay and the Golden Gate Bridge. It was also important to me to find a venue afterwards where we could celebrate while practicing social distancing. We reserved an outside space at a local brewery in Moraga so we can gather safely and enjoy a lunch together. In addition, each year we design fun swag with Benefit Marketing to get people excited for the ride, including visors, water bottles and jerseys with our team logo. This year we made Team Friel hats and Benefit Marketing is donating bandannas for after the ride (which can also serve as masks!).
MJFF: How have you stayed connected with the community in these extraordinary times?
KF: I have stayed connected with my Tour de Fox community through emails, texts and social media. We are so fortunate to have technology during this pandemic to help us stay in touch with our friends and family across the country.
MJFF: Any advice for newcomers to the Tour de Fox community and/or first-time fundraisers?
KF: Do not hesitate to participate in an event! It may seem daunting to try to ask for donations but the rewards you reap are not just monetary. I remember the first year I was shy about letting others know of my diagnosis and nervous that no one would donate. I was blown away by the positive responses I received. In the process of fundraising for The Michael J. Fox Foundation, you become connected and supported by not only your friends but the entire Fox community. For me personally, the experience has been so rewarding and uplifting.
Read the next two blogs in our four-part series featuring a six-year Tour de Fox veteran from the Pacific Northwest, Len Grant, and Tour de Fox newcomers from Ohio representing Team Bell.
There's still time to join Kathe and the entire Tour community on August 29. Click here to learn more and sign up for the virtual Tour de Fox ride today! If you have any questions, email us at tourdefox@michaeljfox.org.