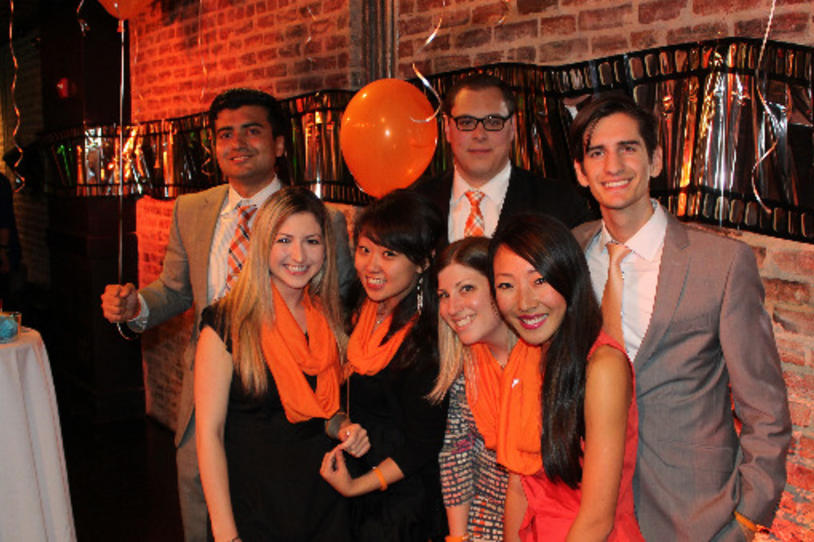 Last year was an exciting one for the Team Fox Young Professionals (YPs) who added a Washington DC group to their roster! Established in 2010 in response to the growing number of 20- and 30-somethings who wanted to support the Foundation's mission, the YP program now includes groups in 5 major cities across the US: New York, Chicago, San Francisco, Boston and Washington D.C. While a personal connection to Parkinson's disease inspired many of the founding members, the groups have expanded to include those who haven't been directly impacted by PD but want to help speed a cure.
We recently caught up with the newly formed DC group to find out more their first event!
Team Fox: How did the DC YPs get started?
YP DC: Quite simply, we were brought together by a strong and unified will to fight and find a cure for Parkinson's disease (PD). Some of us had been involved with The Michael J. Fox Foundation (MJFF) before, some of us were involved with other Parkinson's groups, and some of us were just looking to make a difference and became moved and motivated by the passion, vision, and work ethic of MJFF. We were in great admiration of all the work MJFF had been doing and we wanted to help the Foundation grow, widen its footprint, find further support, and bring the PD cause to greater light in our nation's capital.
Team Fox: What was your first event?
YP DC: Our first event was a Premiere Party for the debut of the new Michael J. Fox Show in September 2013.
Team Fox: How did it go?
YP DC:It went wonderfully well! We had nearly 200 guests, and we were thankfully able to obtain a cool multi-level venue in downtown DC along with some very generous sponsors such as Shake Shack, Luke's Lobster, Georgetown Cupcakes, The International Spy Museum, and Gordon Biersch, who provided us with great food and giveaways for our guests. Our event drew attendees from all walks of life, including young professionals, political aides, PD patients, their caregivers, and even Miss Asian America decided to drop by with some of her guests. In addition, we were very excited to gain some media attention with our event from the local NBC channel to The Washington Post!
Team Fox: What was the toughest part about planning your first event?
YP DC: We had some tight time constraints which presented us with some challenges in finding and negotiating with available venues, as well as in being able to promote our event to potential guests with enough advance notice.
Team Fox: What are your plans for next year?
YP DC:We have a lot of exciting plans in the works! We are looking at planning a formal event that will be "Orange Tie" with some fun themes, along with some casual events such as a "Fox Crawl," which will be a weekend brunch crawl, and a "Fox Trot," where we will have seasoned professionals give dance lessons in various styles. We are hoping the "Fox Crawl" will be a repeatable event that we can use to showcase local vendors and capitalize on the young professional's love for brunch, drinks, variety, new adventures, and casual fun. In addition, we are hoping the "Fox Trot" will prove to be a fantastic event for young professionals looking to socialize and learn a fun new activity, as well as for PD patients and their caregivers who are looking for a great new way to move!