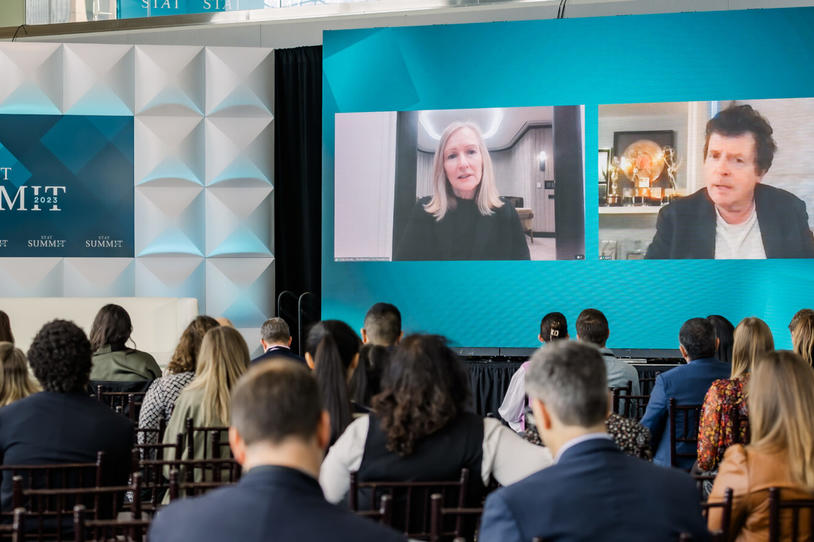 This month, speaking virtually with STAT award-winning journalist Matthew Herper for the 2023 STAT Summit, a leading health tech and life sciences care conference, Michael J. Fox and Foundation co-founder and CEO Debi Brooks discussed the Parkinson's biomarker breakthrough announced earlier this spring and its seismic impact to date on the field of research. (In case you missed it, read our blog breaking down the news.)  
With the new test to detect abnormal alpha-synuclein in spinal fluid, validated by MJFF's Parkinson's Progression Markers Initiative (PPMI), researchers can objectively define and monitor this pathology for the first time in the living body.  
When Matthew Herper asked about the power of this moment for Parkinson's science, Michael reflected on his personal journey of receiving a diagnosis and how the recent discovery ushers in research on a new generation of treatments for Parkinson's disease (PD) and even unlocks the potential to prevent altogether:  
"When I was diagnosed, I had a twitching pinky, the base part of my presentation. They say, 70 to 80 percent of my dopamine-producing cells were already gone. So, what happens in that time, a shadowy place? We can solve that now. We can answer that question. We can say, here's what's happening and here's how we can stop it."  
Highlighting the community's role in today's transformed landscape for drug developers, Debi shares: 
"We're representing the dreams and hopes and risk profile of Parkinson's patients. That's what been the fuel that's helped us become trailblazers."  
She adds: "The pipeline is a great indicator of promise. When you pair that with the first and likely watershed moment over the next five years of biomarkers, I think we'll start to see a lot of drug approvals that reflect the state of science we're seeing today."  
Closing out the session with a standing ovation, Michael shared the Foundation's guiding principle and dedication in getting better treatments and a cure to the millions of people and families living with PD:  
"It's about purity of motive. We don't want to be famous. We don't want to be rich. We don't want to be celebrated. We want to get things done."  
Watch the full interview here. To hear more from Michael on what this enormous leap forward in research means for him, read his authored op-ed: "As a Parkinson's Patient, I Felt a Little Left Behind by Biology's Century — Until Now," published in STAT's "First Opinion" section earlier this spring.