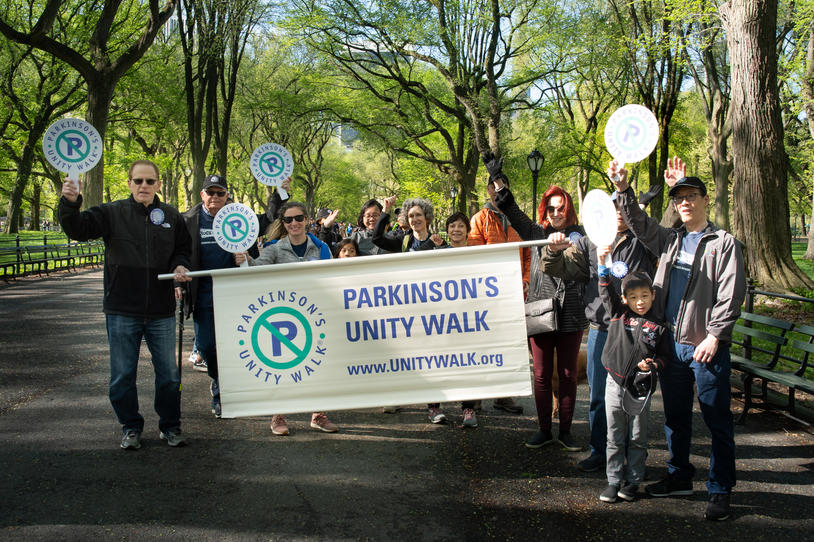 From all corners of the country and beyond, our active community of people and families living with Parkinson's continue to go the distance to bring us closer to our ultimate goal — a cure for Parkinson's disease (PD). Today, The Michael J. Fox Foundation for Parkinson's Research (MJFF) and The Parkinson Alliance announced that the Parkinson's Unity Walk — a annual walk held each April in New York City's Central Park that draws the largest number of participants for a single-day grassroots Parkinson's fundraiser — will be hosted by MJFF starting in 2023.
Dramatically scaling since its inception in 1994 from 200 participants in its first year to 11,000 around the U.S. and more than 30 countries by 2019 — the event transition will leverage MJFF's robust engagement onramps and network to meet the growing scale of the Unity Walk's mission and reach more people and families impacted by PD.
"The Unity Walk was founded by Parkinson's patients who saw the immeasurable value of bringing together the community. Thanks to the efforts of our team, event participants, volunteers and donors, we surpassed even the biggest goals that we set for ourselves," said Martin Tuchman, Chairman of The Parkinson Alliance and the Parkinson's Unity Walk. "I'm pleased that MJFF will bring its scale and expertise to take this event to the next level while maintaining its tradition as a resource for every person touched by this challenging disease."
"When the Parkinson's community rallies together, magical things happen," said Michael J. Fox. "For years the Unity Walk has united patients and families raising millions of dollars to advance critical programs and research. We look forward to continuing the incredible legacy of this event."
In keeping with the Unity Walk's tradition, MJFF will present a day of activity for the community to celebrate, learn and connect, while raising critical funds for a cure. 100 percent of proceeds from fundraising will be used to support the research and public policy priorities that people and families living with Parkinson's urgently need.
"MJFF and The Parkinson Alliance share a profound commitment to doing all we collectively can to support the millions of people with Parkinson's. For decades, the Unity Walk has welcomed thousands into its network and invited them to take action," said MJFF CEO and Co-Founder Deborah W. Brooks. "As new stewards of this event, we are honored to continue this tradition and to connect more people to the important role they each can play in helping to eradicate this disease."
Learn more about the event's transition by reading our press release.
Ready to join us and the worldwide Parkinson's community next spring? Stay tuned to our channels for updates as the Foundation continues to lay the groundwork on the April 2023 event. We can't wait to see you in New York City's Central Park where we will welcome past participants, and first timers. If you have any questions, email us at unitywalk@michaeljfox.org.