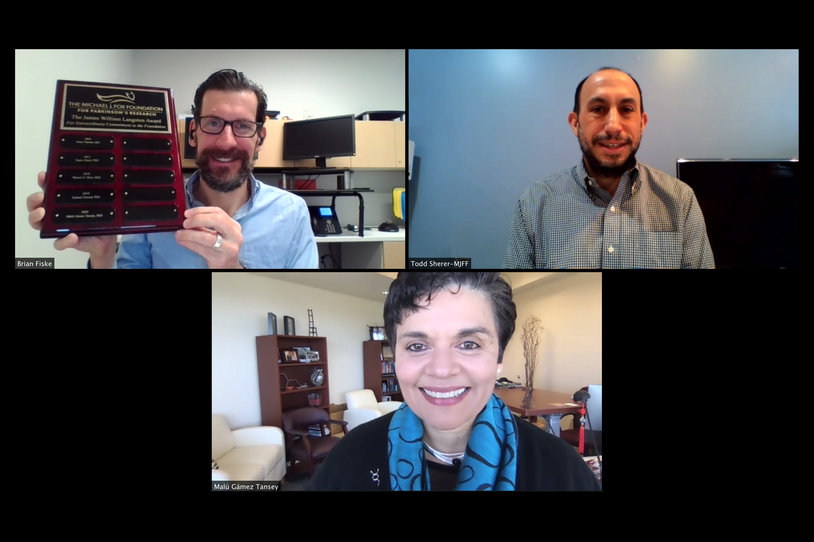 To advance new Parkinson's treatments, The Michael J. Fox Foundation (MJFF) relies on a global network of scientific advisors who highlight opportunities and identify challenges to progress. These partners help us shape and implement our research strategy.
Each year we honor one of our advisors for their service and dedication to our shared goals. This year's recipient of our annual J. William Langston Award is Malú Gámez Tansey, PhD. MJFF CEO Todd Sherer, PhD, and Chief Science Officer Brian Fiske, PhD, presented Tansey with the award during a video call this month.
"I am incredibly honored to receive this award," said Dr. Tansey. "As scientists, we can't solve and understand Parkinson's without interacting with the patient community and encouraging them to participate in clinical trials and disease education. Through my work with The Michael J. Fox Foundation — and participating in these educational opportunities for patients — it keeps me grounded and motivated as a scientist."
Tansey is a professor of neuroscience, co-director of the Center for Translational Research in Neurodegenerative Disease, and the first endowed chair of the Norman Fixel Institute for Neurological Diseases at the University of Florida in Gainesville. Her work focuses on inflammation and immune responses in Parkinson's disease. Tansey's laboratory profiles and measures these systems and tests new treatments against their dysfunction. Their ultimate goal is to bring new therapeutic options to patients.
Tansey's focus on patient-relevance translates to her work with our Foundation. The urgency around patient impact is felt in her discussions and recommendations around new therapeutic avenues and investments. And she is an enthusiastic participant in patient education initiatives to share the latest findings and programs. Among other appearances, Tansey was a panelist on the first MJFF Spanish-language webinar in December 2020.
"The work of our Foundation cannot be successful without input from advisors whose expertise helps direct us to the biggest opportunities," said Todd Sherer during the award conferral. "Dr. Tansey continuously puts patients at the center of research — she is committed to explaining the science to the patient community and their critical role in finding a cure."  
MJFF established the J. William Langston Award in 2006 to show our appreciation to our hard-working advisors. Langston was a founding scientific advisor when the Foundation was first getting on its feet and worked tirelessly with MJFF staff in those early years to pull together world-leading experts in Parkinson's disease research and to coordinate our first funding initiatives. The Langston Award, which comes with a $25,000 research grant, is a reflection of his original spirit and commitment to the Foundation.
View a list of our current Fox Advisors. If you are a researcher interested in helping us set and implement our research agenda, please email research@michaeljfox.org.