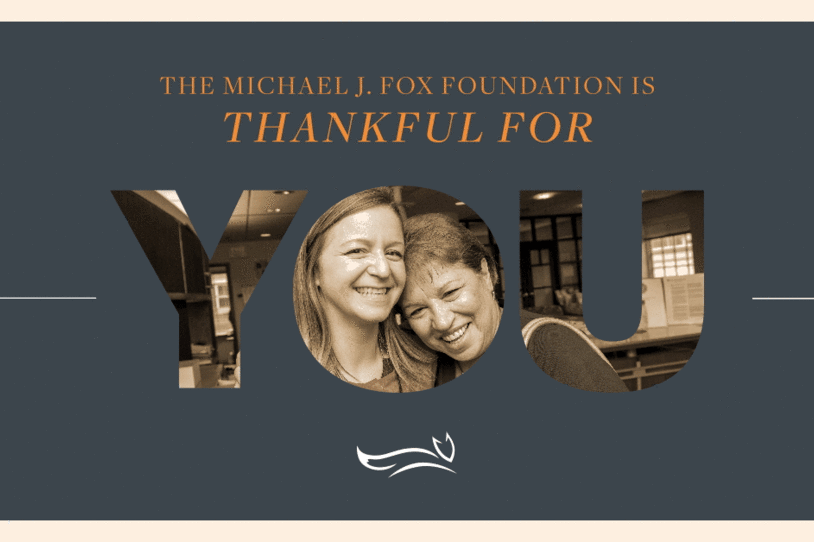 2020 has been a challenging year and the holidays might look a little different. But for many of us, there is still so much to be thankful for. Here at The Michael J. Fox Foundation (MJFF), we're grateful for our community and for your support this year, and every year. We're thankful you're HERE. Just in time for Thanksgiving, our staff shares some of the things they're most grateful for this year.
"I am thankful this year for all the amazing scientists who are doing their best to cure PD and all the diseases that ail us." – Oretha A. Winston Hunter  
"I'm thankful for the incredibly resilient PD community that I get to work with every day. This year has been challenging for many around the world, but our community continues to remain flexible in the face of adversity and it has taught me to personally remain positive." – Kristina Magana 
"I am thankful for my family, friends and the amazing community we work with. Every day they continue to inspire and motivate me" - Caroline Sand  
"I'm thankful for the perseverance of the research and drug development communities with whom we support and partner to find new treatments for people with Parkinson's disease. Their dedication and commitment fuels our hope." – Brian Fiske 
"I'm thankful for where I am right now and for the opportunity to keep striving to where I want be in the future." – Gary Leung  
"This year I am especially grateful to Parkinson's researchers for continuing their important work throughout the pandemic. Ensuring safety while also continuing to progress the science is not a simple task and I have been impressed with researchers' innovative approaches to maintaining the research momentum. Their continued scientific curiosity and dedication to developing new treatments is a source of inspiration and energizes me to work even harder to fund their work!" - Mark Frasier 
"I'm grateful for the simple things this year — my family, friends, a big piece of chocolate cake. I'm also deeply appreciative of my work, and the honor I have of amplifying the stories of Parkinson's families. Seeing how this community has rallied together, even in the face of the difficulties of 2020, has energized my commitment to doing all I can to bring an end to Parkinson's disease." – Allison Boiles  
This year I am especially thankful for my colleagues who have continued to work tirelessly for a cure despite the exceptional challenges we have faced in 2020. Every day, they continued to show up and support people with PD, their families and friends, and the researchers working day and night for a cure. The pandemic caused unprecedented hurdles that required adjustments and additional support for our community and my colleagues truly stepped up. – Sarah Weissmann  
Our Founder Michael J. Fox is often our source of inspiration and reminds us that with gratitude, many things are possible: 
"Optimism is really rooted in gratitude, optimism is sustainable when you keep coming back to gratitude, and what follows from that is acceptance."