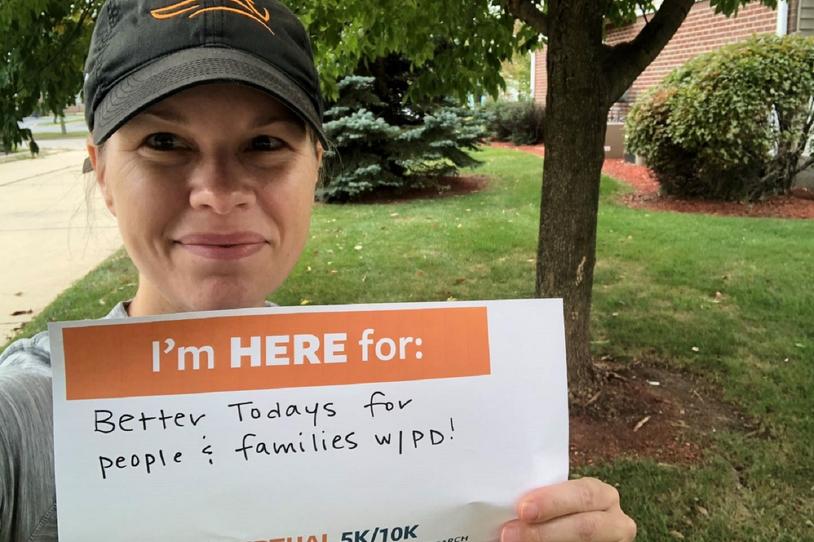 Most people know her as The Michael J. Fox Foundation's (MJFF) on-staff movement disorder specialist (a neurologist with advanced training in Parkinson's), and the expert behind our Ask the MD series. But for the first time, MJFF's senior vice president of medical communications, Dr. Rachel Dolhun, is taking on a new title in the race to cure Parkinson's: half-marathoner.
While the training requires months as opposed to years, and the finish line involves a hard-earned t-shirt rather than a white coat, her commitment to the Parkinson's disease (PD) community is evident. "I saw another way that I can support people with Parkinson's and their families," says Rachel, who spends her days talking to members of the community, creating educational material, and staying abreast of the latest in Parkinson's research and care.
In just over two weeks, Rachel will run 13.1 miles as part of MJFF's Virtual 5K/10K/Half Marathon on the weekend of May 7-9. It's the furthest she's ever run, but it's not the first time she's lacing up to support PD research. "I've always been inspired by our grassroots fundraising community — especially by the people who are living with Parkinson's and running marathons," says Rachel. "Running has always been an interest of mine and running farther has always been a goal of mine," she says. That, combined with pandemic-induced outdoor workouts, moved Rachel to sign up for MJFF's Virtual 10K in October 2020.
Like many, she felt empowered to try a new challenge in part because the race was virtual. "I could do it on my own, at my own speed, and I didn't have to worry about being last to cross the finish line," she says. "It was fun; and it showed me that I could do it." When the spring event was announced, along with a new half-marathon option, she decided to "take it to the next level."
Beyond the added mileage, Rachel is using the run as an opportunity to raise funds for the Foundation. A known rule follower, she took advantage of the fundraising checklists and resources participants receive when they register. "I set up my page, emailed my friends and family, and shared on social media," she says. And the response was incredible: within weeks, she had exceeded her $1,000-goal. "I would mention it casually to someone and they would say, 'Send me the link.' I'm so lucky and grateful to have people in my life who are willing to support me in this way."
Of course, going public and getting donations makes the run more real. "I really have to report back to all those people who are supporting me in this," she says. "Now I'm thinking, 'How am I going to run 13.1 miles?'" In addition to utilizing free training guides and coaching apps, Rachel stays motivated by the cause. "When I'm at a point where my energy and interest in the run are really starting to lag, I can remember why I'm doing this and all the people I'm doing it for," she says.
She also emphasizes the known benefits of exercise, something she talks about often with people living with Parkinson's but recommends universally. "Parkinson's or not, exercise is one of the most important things we can do for ourselves. It's good for our overall whole-body health, our heart health and our brain health, too. It helps to boost mood and can even help you sleep better," she says. In Parkinson's, which can affect mood, sleep and motivation, it's that much more important.
Research is ongoing, but early evidence suggests exercise may slow the progression of disease, or even delay disease onset in people who could develop Parkinson's. "Many types of exercise have been proven beneficial," she says, "so the most important exercise is the one that you are going to do regularly, and you feel safe doing." (Click here for more on Parkinson's and exercise.)
For those seeking inspiration to get started or keep pushing — in exercise and in life — Rachel offers a mantra she heard during an early training run that's stuck with her: "Motivation can wane, in running or not. But if you're looking for motivation, that means it's there." She adds, "I'm grateful to be able to run and do something that promotes my health while working toward a goal — a goal that helps not only me, but hopefully helps the whole community."
To join Rachel, and thousands of runners and walkers worldwide helping speed new and improved Parkinson's therapies and a cure, sign up for MJFF's Virtual 5K/10K/Half Marathon today. All proceeds go directly to the Foundation's high-impact research programs.
To read Rachel's story and follow her progress, check out her fundraising page.