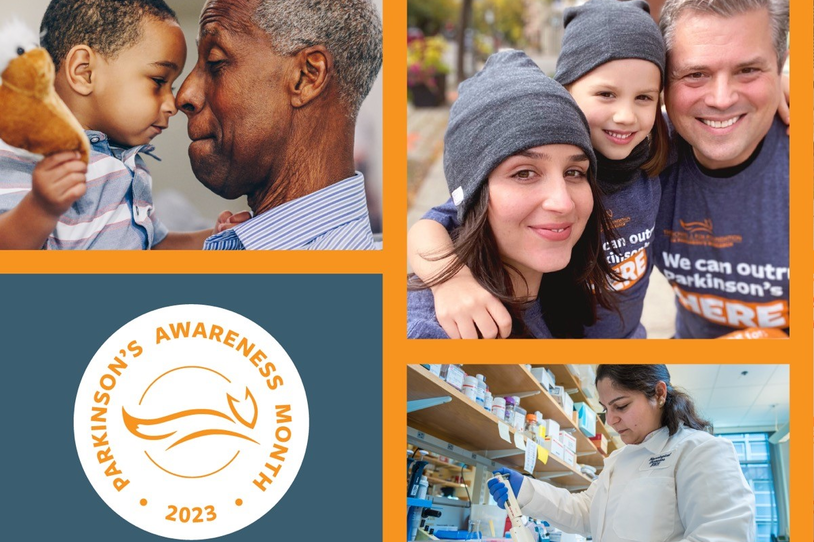 There's no limit to what our passionate Team Fox fundraisers will do to support The Michael J. Fox Foundation's (MJFF) mission to speed a cure for Parkinson's disease (PD). Many members of our Team Fox community are using portion of proceeds (PoP) sales to engage their networks in supporting vital Parkinson's research. And 100 percent of Team Fox donations go to the Foundation's high-impact research programs. 
 
Here are just a few of our PoP fundraisers you can support this April during Parkinson's Awareness Month while also working to end PD: 
 
Rumble Boxing: Rumble studios across the world are hosting an Open House Week from April 10 to 16 to bring awareness and raise funds for Team Fox. Each 45-minute workout class combines the endless benefits of boxing with the power of strength training.  
 
C.Krueger's Finest Baked Goods: After Cheryl Krueger, the intrepid founder of C.Krueger's, was diagnosed with PD, she combined her passion for cookies and her desire to find a cure by creating an MJFF cookie collection. 15 percent of proceeds from this collection will be donated to Team Fox. "I believe cookies are a universal gesture of love — especially joyful when shared. As I live with and battle my own Parkinson's diagnosis, I find power and positivity in working with others to discover treatments and a cure" says Cheryl.  

Sipify: Sipify is the first straw specifically designed for hot drinks. PD can oftentimes impact swallowing, and straws can be of great help to those experiencing difficulties. Sipify will donate 10 percent of proceeds from their special edition Team Fox Sipify Straws 2-Pack. 
 
Sue Surdi Designs: 20 percent of each piece of jewelry sold in Sue Surdi's MJFF collection will benefit Team Fox. She designed one of the bracelets with her husband, who has PD. Her jewelry is designed to be able to be worn 24/7, making them more user friendly for those living with PD.  
 
Squid Wax: This record store in Hanover, Pennsylvania is donating 20 percent of proceeds for every reusable shopping bag sold to Team Fox. Buyers will also get a free Team Fox wristband and 10 percent off used records everyday they bring the bag back to the store. 
 
Common Hope by Bent Water Brewing: Common Hope is a collaborative craft beer initiative created by Bent Water Brewing in Lynn, Massachusetts. With an open-source recipe, Bent Water Brewing aims to inspire breweries around the country to help raise awareness and funds for Parkinson's research by producing and serving Common Hope in their local community. Beginning April 5, 10-15 percent of the proceeds from sales of Common Hope will be donated to Team Fox.  
The Little Words Project: Team Fox has created a special bracelet with the help of The Little Words Project. As an ode to our founder, a self-proclaimed optimist, we've created 'Optimist' bracelets, with 25 percent of the proceeds from each bracelet sold donated to MJFF. For the official bracelet announcement, check the Team Fox Facebook, Instagram and Twitter later in April.
 
Interested in kickstarting a portion of proceeds campaign of your own? Click here to learn more about the Team Fox Portion of Proceeds program and next steps for kicking off your campaign. 
C.Krueger's Finest Baked Goods

Common Hope by Bent Water Brewing