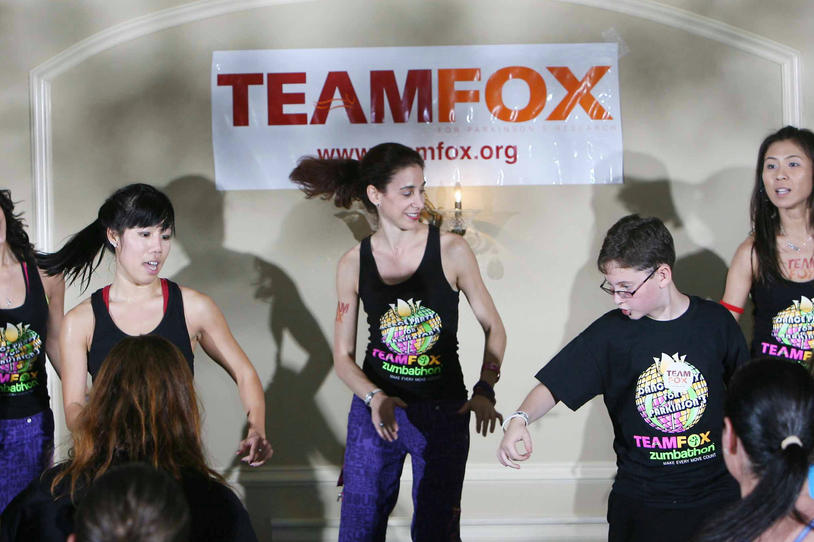 Team Fox member and mentor Beth Hochstein is determined to take her passion for dance and fitness and turn it into a successful fundraising opportunity. Dr. Hochstein was diagnosed with young-onset PD four and a half years ago at the age of 36. After retiring from her career as a podiatrist and foot surgeon in July 2010, she became a huge fan of Zumba® Fitness as a form of exercise to reduce her symptoms. Shortly after, she became a licensed Zumba Instructor. Beth has raised over $60,000 for The Michael J. Fox Foundation and her efforts included hosting a Zumbathon® charity event for Team Fox in Long Island, N.Y. last fall.
After her initial success she set her goal even higher. Beth contacted Zumba® Fitness' Home Office and asked them to partner with Team Fox. On June 29th, 2012, Zumba® Fitness and Team Fox will partner for a very special Zumbathon charity event at Roseland Ballroom in New York City. This Movin' to End Parkinson's Zumbathon event will feature top Zumba celebrities, Tanya Beardsley and Gina Grant. There will be over one thousand people attending the event to raise money and awareness for Parkinson's research. Learn more about this event or purchase tickets now at www.zumba.com/teamfox.

Also, Team Fox members Terry and Oliver Holler have agreed to travel to NYC in a DeLorean Time Machine that they built! The car will be outside the Movin' to End Parkinsons' Zumbathon event. This time machine is a must see and has raised over $70,000 for The Michael J. Fox Foundation so far.