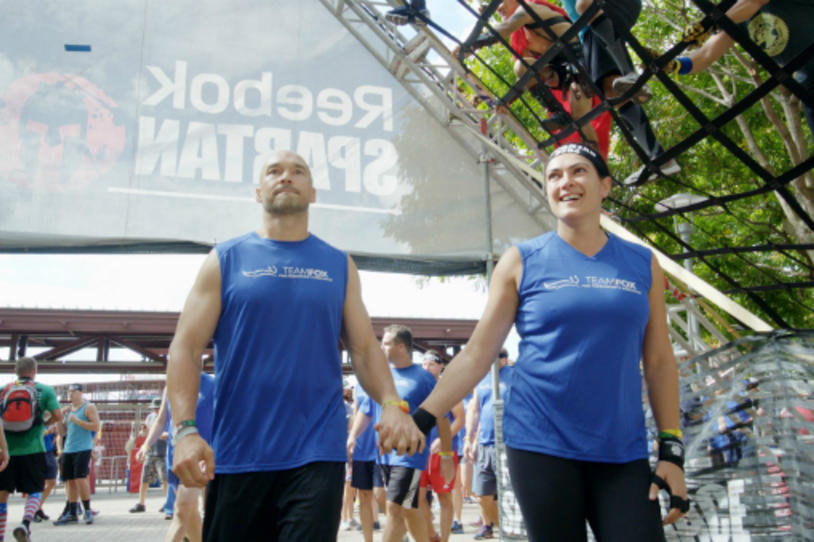 Dan Morris was diagnosed with young-onset Parkinson's disease (PD) in 2016, at the age of 37. A former Division I collegiate football player, Dan is known for his competitive mindset and incredible work ethic. After receiving the Parkinson's diagnosis, "it changes your perspective on life," says Dan.
"We had a few tears early on, but our attitude was, 'we're going to figure this thing out and do what we're going to do and make the best of it'," recalls Dan. Their research brought him and his family to The Michael J. Fox Foundation, and ultimately, the Foundation's grassroots fundraising arm, Team Fox. Channeling his athletic skills and tapping into his network of football friends and family, Dan and his wife, Julie, rallied a team of friends and family to participate in the Civilian Military Combine -- an obstacle course race in Brooklyn, New York -- in 2016. With just 18 members, Team PAPA D (Powering Against Parkinson's Disease) raised an impressive $175,000 for Team Fox! In 2017, their team grew substantially -- with 70 adults and 50 kids (including the Morris' three) -- to participate in the Philadelphia Spartan Race. Quickly, their historic fundraising crossed the $300,000 mark.
The success of Team PAPA D's efforts and Dan's unwavering commitment to finding a cure caught the attention of the Spartan Race team. The race organizers were so inspired after hearing Dan's story, that they've offered to waive the entry fee for all members of Team PAPA D and are now helping to spread awareness and support for Dan's event with the following video:
This year, in conjunction with Spartan Obstacle Course Races, Team PAPA D will return once again, this time to upstate New York for the West Point Spartan Sprint on Saturday, August 25, in West Point, New York. The course is designed for athletes of all levels and will feature a Kids Race as well.
"Since taking on this life challenge, in many ways I feel I am now stronger than before boosted by all the support that surrounds us," says Dan.
Learn more and save the date to join in the fun this summer!