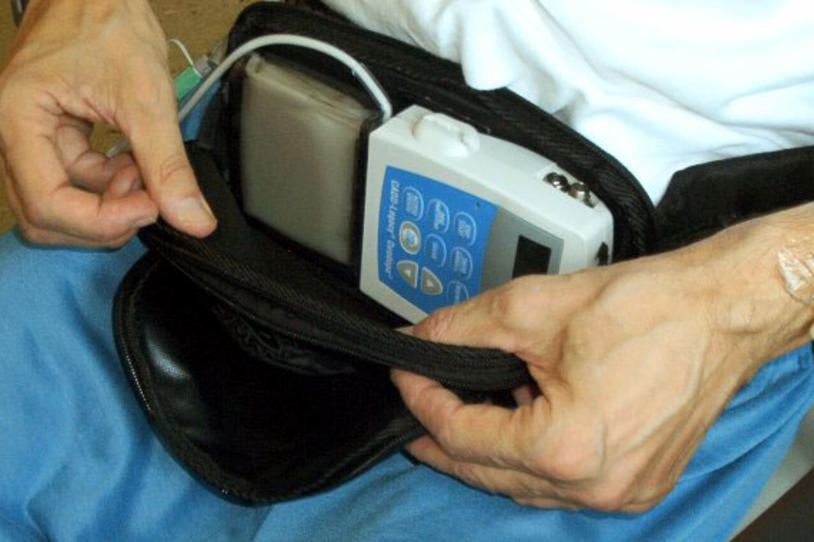 Americans with advanced Parkinson's disease (PD) who struggle with the levodopa-induced motor complications of wearing off and dyskinesia may soon have another treatment option: A levodopa-carbidopa gel delivered directly into the small intestine is moving closer to market, and test results suggest it may offer the same benefits as deep brain stimulation (DBS) — without the need for brain surgery.

Abbott Pharmaceuticals this week announced positive results from a phase 3 double-blind clinical study of its levodopa-carbidopa intestinal gel (LCIG), finding that LCIG significantly decreased "off" time (when the medication's effects wear off) and increased "on" time without dyskinesia.  The Phase 3 results from this study are in line with interim results reported last year from an open-label study of LCIG.  (LCIG treatment is already available in Europe under the brand name Duodopa.)
According to Abbott's results, the LCIG study participants' average "off" time decreased by four hours a day, while "on" time without dyskinesia increased by more than four hours. The gel also worked better than standard levodopa-carbidopa immediate release tablets, to the tune of about two less hours of "off" time per day.
LCIG is not entirely non-invasive. Patients must live with a small pump attached to their body during all waking hours. The gel is continuously infused into the small intestine with a portable pump and a tube that is permanently inserted into the body. Patients must remove the pump each night before bed and reattach it in the morning. Sometimes the tube can move, kink, or block, causing complications.
Still, says study author and Michael J. Fox Foundation Scientific Advisory Board member C. Warren Olanow, MD, LCIG could greatly improve quality of life for people with advanced-stage Parkinson's.
To date, U.S. patients have had access to levodopa-carbidopa (sold under the brand name Sinemet in the United States) only in tablet form. Levodopa is converted into dopamine in the brain, but first, it has to navigate the bloodstream. Carbidopa ensures that it gets to the brain. When taken orally, however, the overall process of absorption into the blood and brain can be inconsistent, making it more likely that the drug will lead to motor complications.
So scientists have searched for a better, more consistent, way to get levodopa into the brain.
"We've known for years that if you could administer levodopa continually and more evenly, without the peaks and valleys, you can minimize motor fluctuation," MJFF Scientific Advisory Board member Irene Hegeman Richard, MD explained last June, when Abbott announced positive interim data from a trial studying LCIG. "But this has not yet been very practical:  You can't stay hooked up to an IV all day, for example. However, another way to do this is to insert a tube directly into the intestinal tract. LCIG is a method of delivering a gel form of levodopa-carbidopa through the intestine so that there's a more even absorption of the levodopa into the bloodstream, and therefore, into the brain as well. This methodology is proving more feasible."
According to Olanow, Abbott will next need to meet with the Food and Drug Administration (FDA) to determine if there is sufficient data to bring the drug to market. If all goes well, he says, LCIG could be on the market within a year's time.
And there's more to be enthusiastic about, says Olanow. Results from the Abbott study provide proof of concept for developing drugs down the road that mimic the effectiveness of LCIG, but could be taken orally.
"It's an encouraging time for Parkinson's patients," says Olanow.