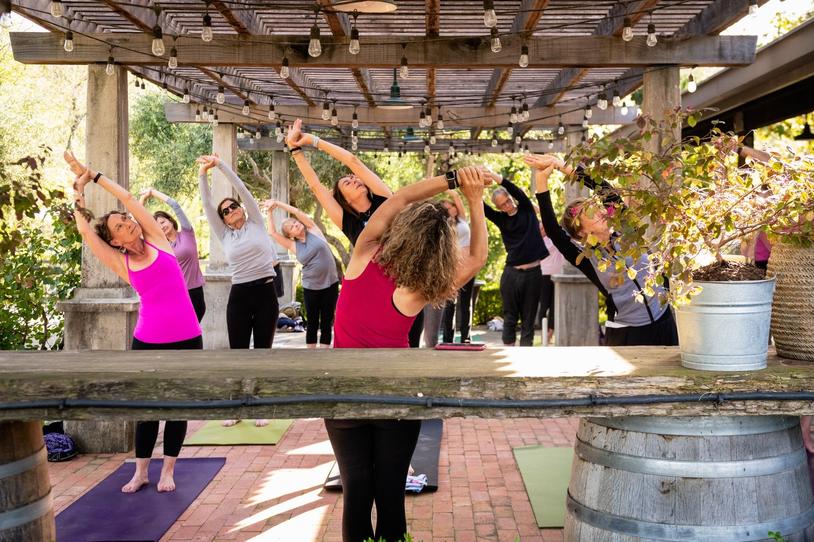 For Shelley, her yoga practice was more than exercise – it was a form of medicine, and where she felt a sense of community. But after she was diagnosed with Parkinson's in 2020 at age 60, she was embarrassed to go to yoga classes due to her tremor, loss of balance and lessening ability in many yoga postures. Rather than give up, she decided to start a personal practice, for herself and her friends.  
This personal practice has grown over the years. Each week, a regular group of 20 participants gather at 32 Winds Wine in Sonoma to listen to the birds sing, marvel at the beauty of the vineyard and practice yoga. Individuals of all levels are welcome, and Shelley offers modifications to the postures for herself and others. Afterwards, the group enjoys one another's company and a glass of wine. They've named their group #bubbleofloveyoga.  
Shelley recalls "feeling sad and blue and super shaky and unbalanced," before one class but by the end of class, she was "glowing." One of the regular participants also has Parkinson's and another has a husband with PD. "The love and support we all give and receive is extraordinary," says Shelley. "These Monday night sessions of yoga and friendship have helped me beyond what words could ever describe." 
The class is free-of-charge but participants have the option to donate to The Michael J. Fox Foundation (MJFF). In September 2022, Shelley sent in her first donation to MJFF with a note that she was recently diagnosed with PD, coming from a family with a long history of PD, including her mother, aunt and grandmother. "I really wanted the funds to go into research, and when I read about the various organizations, The Michael J. Fox Foundation felt like the best bet for my goal," Shelley says. "I was previously Chair of the Board of the Friends of the Cancer Center at Dartmouth Medical Center, and it was through that experience that I learned how important research dollars are." 
To date, Shelley and her group have donated over $9,000 to MJFF through their yoga and wine gatherings. They are almost at the $10,000 mark, and to celebrate that milestone, the winery will throw them a party!  
Your reasons for supporting MJFF may differ from Shelley, but we are all working toward the same goal, a world without Parkinson's. Click here to donate and help make our goal a reality.